What Do Network Administrators Need to Know?
Remember the days when data center strategy didn't keep you up at night? Data center infrastructure management (DCIM) has become an all-encompassing nightmare of complexity. Developing strategies for managing these assets is key to any business in every sector. Instead of making the decision to build a new data center, network administrators are being asked to make use of existing models by streamlining operations and stretching their capacities. Now DCIM includes asking:
Should we retrofit an old facility or build new?
Should we lease or buy equipment?
Or, should we co-locate or go to the cloud?
None of these questions can be answered in a vacuum. That's why network administrators must be part of the process as executive level leadership works to build enterprise strategies to improve the business.
Data Center Strategies – Keep the Enterprise in Mind
As the architectures have grown more complex, digital technology has elevated the importance of the modern data center. Network administrators have insights that others don't have, so it's important for them to have a seat at the enterprise-level strategy table. Today's network executives must participate in developing data strategies that tie closely with business-level decision making. For example:
How will forecasted growth metrics affect overall network traffic?
How flexible and scalable will your data center need to be to accommodate projected sales growth?
What are corporate policies related to bring-your-own-device rules and how will it affect the overall security of the network?
What is the support level for "shadow IT" projects within the enterprise?
What budget constraints should be expected within the next few quarters?
Failing to engage the network administrator in business growth strategies means they will be forced into a reactionary knee jerk that will put additional strains on the hardware and human resources in your company.
With 2017 evolving as the year of the cloud, what are some of the latest strategies that network administrators must consider as part of any data center strategy?
Cloud IT Spending and Traditional Data Center Issues
A new forecast from IDC predicts that cloud IT infrastructure spending on servers, storage and network switches will jump 18.2 percent this year to reach $44.2 billion. Public clouds will generate 61 percent of that amount and off-premises private clouds will account for nearly 15 percent.

Additionally, businesses are also growing more adept at floating their own private clouds, she said. "Another significant boost to overall spending on cloud IT infrastructure will be coming from on-premises private cloud deployments as end users continue gaining knowledge and experience in setting up and managing cloud IT within their own data centers."
Without the means to continuously collect traffic-flow and application data, your complex, high-speed data center and hybrid cloud infrastructures may not be able to keep up with the digital economy's constant demand for new applications and services. By collecting and mining this data in real time, companies can extract accurate and actionable IP intelligence vital to application and network assurance. This intelligence reveals the vast interdependencies across the entire service stack, including applications, networks, compute, service enablers, and databases in hybrid cloud environments.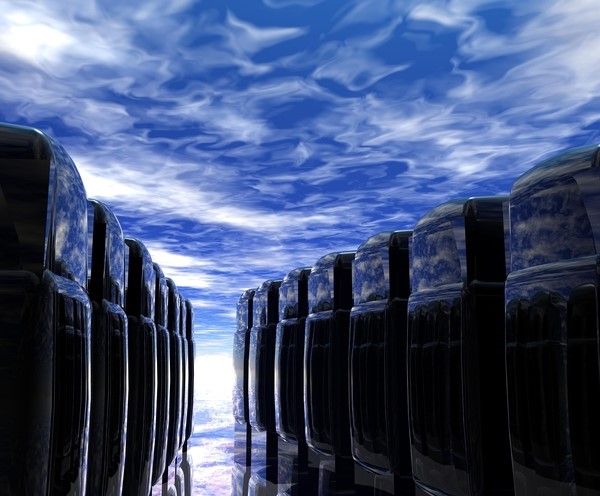 Hybrid models will continue to affect DCIM strategy through 2020 and beyond.
Cloud Architectures Impact Data Center Strategies
Data center strategies over the next few years will encompass increased reliance on the cloud, IoT devices, and an increasing virtualization of legacy devices. Incorporating strategies related to how we manage big data will increasingly drive the elimination of big data silos. At the enterprise level, the user perspective includes an increasing emphasis on predictive analytics, which requires a 360 view of all the data we manage. The need to find scalable data storage architectures almost necessitates a move to the cloud to better balance facility costs.
Interestingly, the push to the cloud has fostered some talk in DCIM circles that the network administrator role is potentially going the same route of the dodo bird. But Data Center Dynamics discards this idea, saying that the next phase in our evolution is a best use strategy designed around hybrid models. They suggest:
However, the enterprise is unlikely to give up the data center without a fight and there are clear signs that a hybrid approach will not only prevail throughout 2017, but become the de facto standard for enterprise IT.
The DCIM strategy of the future seems to embrace the "don't put all your eggs in one basket" approach. Redundancy in all systems is clearly the best approach, whether the strategy encompasses security or hardware cooling. With IaaS and PaaS models showing the highest growth in cloud-services it seems, even public and government entities are moving toward the 'net.
The movement to the cloud will continue to affect strategies developed by network administrators through 2020. As data center budgets continue to shrink, the cost savings found in cloud architectures will continue to drive migration patterns.
Balancing cyber and infrastructure risk with cost, agility, and scalability remains at the forefront to today's data center strategies. Adapting to rapid technological change will be a constant feature of DCIM strategy in the future. Network administrators will be hard pressed to measure success in this environment. When the bar is constantly being raised, how will you continue to meet it long term?
In this environment, it would be easy to imagine the collective exhaustion of the network administrators struggling to keep pace. However, increasing automation will begin to help lighten the load for the data center manager of the future.
To learn how to further ensure the flawless delivery of digital services, agile deployment, and cost-effective operations with NETSCOUT, go here.