WHAT'S NEW   |   Controlled Assurance  |  WebRTC  |  Diameter Test  |  IMS/EPC Test  |  Load Test
WebRTC enables real-time communication using voice, video, file-sharing, and chat from any device that supports a web browser. The WebRTC framework has the potential to enrich and simplify person-to-person and media streaming applications across many use cases and industries.
Customer Service
Using a WebRTC-based application, a customer need only click on a web page to initiate a voice, video, and /or chat session with a customer support representative. Industries that place a high value on customer services, such as insurance, financial services, and retail, can bring customer interactions to a new level of effectiveness by allowing single click access from any web browser.
Media Streaming
Music and video streaming applications can also take advantage of WebRTC by simplifying access to the service by eliminating the need for plug-ins and separate applications.
Healthcare
TeleHealth  can deliver more efficient healthcare by connecting physicians and patients through a video conference. WebRTC enables this communication by eliminating the need for custom applications and simply requiring the patient to have a smartphone, tablet, or personal computer.
The potential is great, but the risk cannot be ignored. WebRTC is evolving and, like any new communication technology, it is critical to rigorously validate WebRTC applications and services in the test lab, and to continue testing in production environments.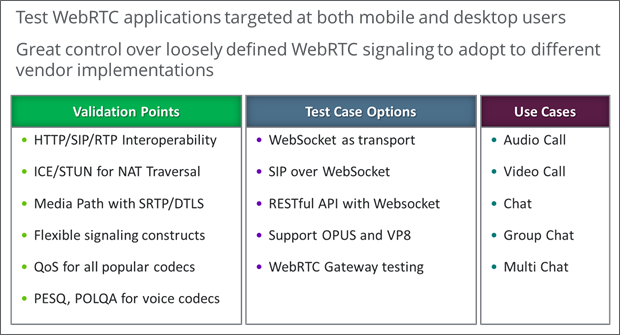 NETSCOUT Spectra2 solutions replace the web browser in order to enable functional, load, and regression testing of WebRTC-based solutions. Scripted test cases can easily adapt to different vendor implementations and targeted use cases. Spectra2 initiates WebRTC sessions in order to:
Validate session establishment procedures
Measure media QoS for voice and video sessions
Verify chat, multi-chat, and group chat functionality
These automated, real-world use cases also validate WebRTC servers and functions that end users never see, including ICE/STUN servers, WebSocket and SIP over WebSocket message exchanges, media streams using RTP and SRTP, DTLS, and HTTP.
Controlled Assurance
Deploying applications and services based on WebRTC can give you an advantage over the competition… as long as your users have a positive experience. A Controlled Assurance solution using Spectra2 will continuously verify that your WebRTC-based service is performing as expected. All of the features available for lab testing can be utilized in a production environment, on a schedule that you chose. Being proactive with Controlled Assurance means that when WebRTC-based services begin to degrade, you will be the first to know – not your customers.
…
Quick Look
Data Sheet
White Paper
Solution Brief