HOW TO MEET THE CHALLENGES OF UNIFIED COMMUNICATIONS
9/10 FIRST-TIME UNIFIED COMMUNICATIONS (UC) DEPLOYMENTS RUN INTO PROBLEMS[1]. BE THE ONE WHO DOES IT RIGHT THE FIRST TIME.

The performance of UC applications, like any business service, is highly dependent on impeccable infrastructure and seamless interoperability in multivendor environments. Unfortunately the reality is that the infrastructure is far from being impeccable and interoperability in multivendor environments is anything but seamless. Therefore in 9 out of 10 incidents the root cause of UC service problems remains as elusive as the quality of the voice on the other end.
How do organizations face these challenges?
A recent TechValidate study revealed that NETSCOUT customers are using unparalleled traffic-based solutions to successfully tackle complex UC incidents, and help achieve high value business outcomes and growth.
what netscout customers say about us:
Four out of five customers reduced Mean Time to Knowledge (MTTK) by 80% or more while also decreasing OPEX.

100% of customers had shorter service disruptions with NETSCOUT's nGeniusONE Service Assurance platform powered by patented Adaptive Service IntelligenceTM (ASI) technology.

An energy company improved its end-to-end monitoring of its Microsoft® Lync® deployment.

Another large energy and utilities company cut their Mean Time to Resolution (MTTR) by 90%.
1Source: discussions with NETSCOUT customers
---
INTELLIGENT UNIFIED COMMUNICATION MONITORING
Time-Sensitive, Actionable Intelligence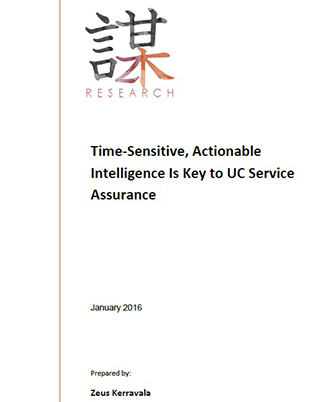 Is Key to UC Service Assurance
ZK Research considers UC to be critical to the success of organizations in the digital era. This report offers practical advice on:
Best Practices in Planning
Designing
Deploying
Assuring UC services
Request your copy below.