There are over 250 major airlines worldwide landing aircrafts at hundreds of international airports globally delivering tens of thousands of passengers, baggage and cargo every day! The industry has embraced digital transformations in reaching passengers on web, mobile apps and in call centers; in executing transactions for ticket / service purchases, loyalty rewards, and baggage handling; and to meet operational needs for their crews and airplanes throughout the airport networks. Dependency on precision and performance of their complex, hybrid cloud environments and application services are essential to reduce risk of disruption that can bring all that movement to a standstill.
Airlines and Airports Must Meet Increasing Customer Expectations
The aviation industry, including airlines and airports, relies heavily on data and a complex network to provide exceptional experience to customers and employees. Travelers expect real-time information, seamless ticketing, check in and baggage handling, and easy airport navigation. Agents and pilots also must have real-time information for security, passenger manifests, flight plans and operational information. Failure to meet these expectations can quickly lead to confusion, flight delays, negative attention on social media, and even financial consequences for the airline.
Supporting Airlines and Airports Through Visibility to Complex Network Eco-systems
Airlines must manage a myriad of network infrastructures supporting applications in their data center, in the cloud, and hosted by 3rd party vendors. Further, each airline interacts with multiple airports, and each airport hosts multiple airlines.
From reservation systems, to mobile apps, to physical monitors, and more, the IT team needs:
End-to-end visibility to understand dependencies, collaborate with all stakeholders, and determine root-cause of any problems
Real-time performance analytics to manage pro-actively before service degradation or emerging internet threats effect travelers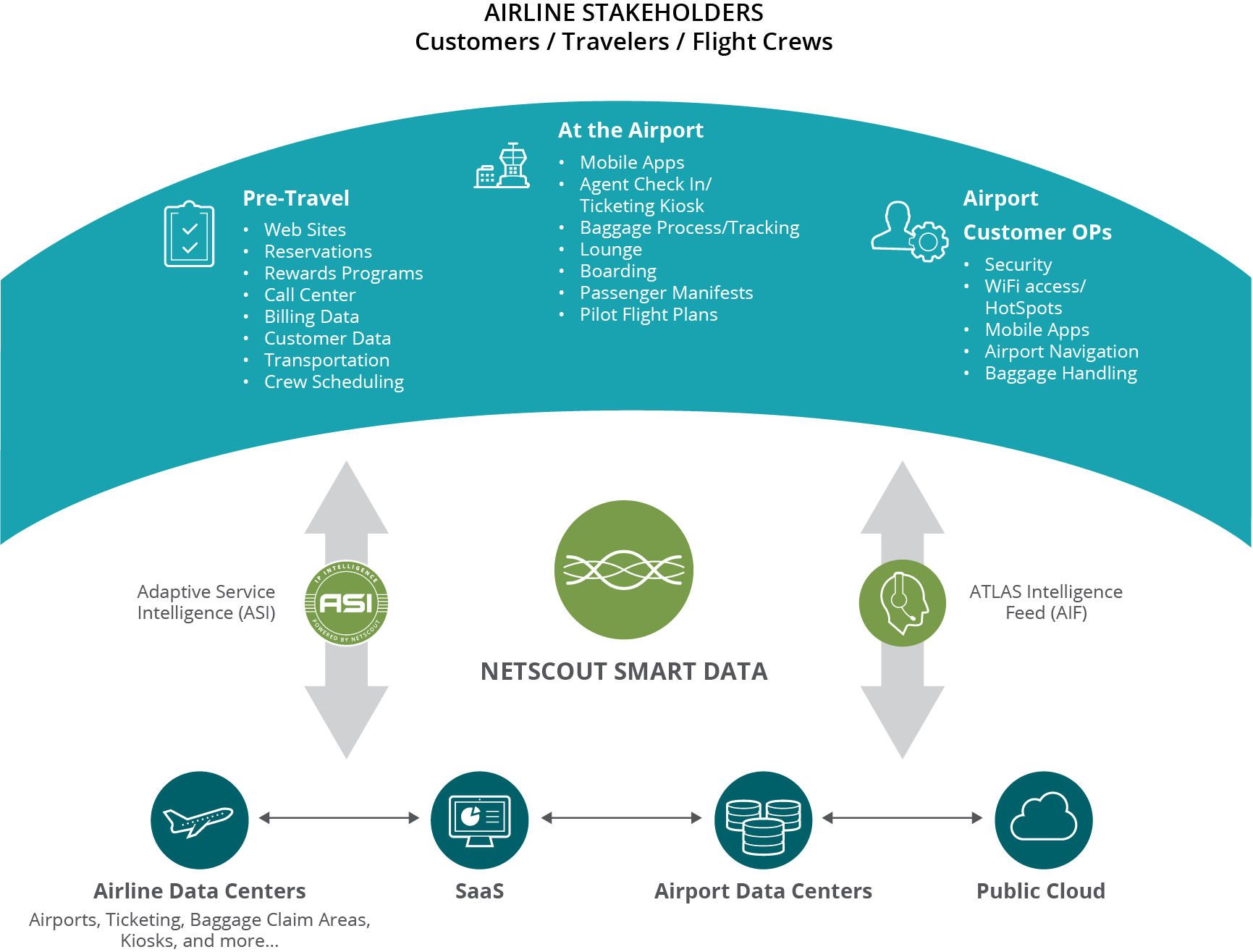 The NETSCOUT solution provides visibility into the performance of components necessary for service delivery across the entire airline/airport experience.
NETSCOUT's Service Assurance Solutions Enable Enhanced Customer Experiences
NETSCOUT's nGenius Service Assurance Platformed, powered by Adaptive Service Intelligence™ (ASI) technology, combines real-time monitoring, historical analysis and a single pane of glass view into the entire network – from the edge to the core. Wired or wireless, physical systems, virtual systems, commercial off the shelf implementations, as well as private, public and hybrid cloud, are all supported by NETSCOUT software solutions and hardware-independent architecture, giving airlines and airports the robust visibility they need to keep everything flying smoothly!
Products in the Solution