Today's telecom networks are a highly complex mix of access technologies, signaling protocols, and standards-based components. Even with mature IMS and EPC standards, control-plane performance of SIP, DIAMETER and MEGACO/H.248, based components is not assured without rigorous functional and load testing.
Customers have more and more options for consuming bandwidth through 3G, LTE, and Wi-Fi networks. This can put tremendous stress on the components that enable voice and video applications. Media gateways, transcoders, video servers, and other components that handle RTP traffic should be tested using repeatable quality measurements including PESQ and POLQA.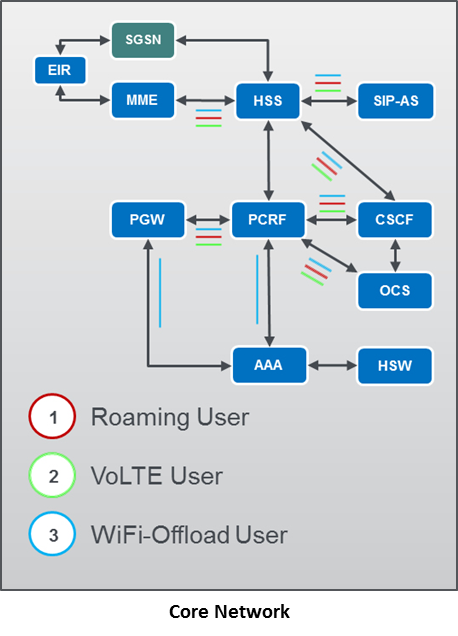 Before you deploy or upgrade, you should be confident that your signaling and media devices or NFV-enabled functions interoperate and perform as expected. Learn how Spectra2 can help make problems including dropped calls, poor voice quality, and one way audio a thing of the past.
IMS/EPC testing made simple
How productive could you be if you could generate test cases directly from the actual traffic that traverses your IMS and EPC network?  Recreating traffic scenarios from the field just became a simple and easy process with the Automated Multi-Protocol Scripting capabilities of Spectra2.
The Automated Multi-protocol Scripting feature has been designed with your IMS and EPC network in mind.  With it, you can simulate all of the elements shown in the diagram to the right, including the SIP User Agents.
The feature encompasses SIP interfaces such as Gm and Si; Diameter Interfaces such as Cx, Rx, Gx, Gxx, Sh, Rf, Ro, Gy, Gz, S6, SWx, Zh, etc., and TCAP interfaces such as MAP and CAMEL, and much more.  If timing delays are needed between events, Spectra2 will automatically calculate and add them to the flow.
With the Automated Multi-protocol Scripting feature, you will recapture your most precious asset when it comes to troubleshooting issues and building test cases… TIME.
You will be able to identify root causes and employ solutions quicker than ever because you are not wasting time building your test cases.  You will also reduce the overhead associated with human error in test case production.
Automated Multi-Protocol Scripting gives you the efficiency and accuracy that you need to drive performance testing of your network.
Why should you waste more time? Take your testing to the next level with Spectra2.
…
Quick Look
Data Sheet
White Paper
S-Blade Pro 1/10/40G Layer 1 Switching with Lab Equipment Utilization Metrics
The nGenius 3900 Series for Test Lab Automation with integrated S-Blade Pro from NETSCOUT delivers an intelligent Layer 1 switch solution for 1, 10 and 40G connections.
Download PDF
Diameter Network Testing
Subscriber services are the #1 cause of the skyrocketing signaling load in the operator diameter network.
Download PDF