The Best Laid Plans: Solutions to Assure Capacity Planning & Reporting Success
Today's IT world is in a constant state of change. As a result, the business assurance solutions you rely on must ensure that your services and applications are reliable, secure and can adapt with your rapidly changing environment. That's where NETSCOUT comes in.
Digital Transformation Creates Capacity Planning Challenges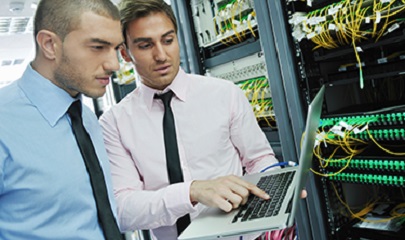 As Enterprises evolve, digital transformation is ushering in new business services, which are creating a greater need for end-to-end visibility. Key initiatives, such as growing the mobile workforce globally, migration to the Cloud, and investment in Unified Communications and Collaboration (UC&C), make it imperative that IT teams have a clear understanding of their current capacity to support service delivery.
With many demands on wired and wireless networks today, the cyclical nature of business weeks, fiscal quarters and year end spikes, as well as increased traffic volume around annual holidays, planning for business activity can be extremely challenging. In many cases, capacity impact expectations around digital transformation projects are little more than educated guesses. IT organizations need hard facts – actual insights into the consumption of capacity broken down by business critical services in order to make the most informed decisions, before, during and after project rollouts.
Data Insights Needed to Ensure Accurate Planning and Reporting
An end-to-end perspective is needed to manage capacity for all of the new applications and services reaching across the enterprise. Network and Application engineers need concrete data to plan infrastructure and service rollouts with confidence. Without needed data, unnecessary costs and delays may result, and decision making could be compromised. In the face of today's new decentralized architectures, driven by SDN and Cloud topologies, accurate reporting on capacity and performance are more important than ever before.
Effective and reliable capacity planning and reporting requires a variety of data sources. Unfortunately, point tools, which are limited in scope, typically depend on a single data source. Relying on multiple tools and manually aggregated data is wholly inefficient and only serves to increase operational expenses to the business. High performing IT organizations need a solution that provides a unified view based on MIB-II, NetFlow, and wire data together to gain the richest, most complete visibility.
Monitoring and analysis of traffic and application service patterns extends beyond capacity planning, offering IT a means of proactively avoiding future problems. Trended data can be used to understand patterns of utilization, so capacity can be added, reduced, or afford precise tuning of quality of service (QoS) policies to avoid bottlenecks and optimize costs.
NETSCOUT Operates in Your Environment of Choice
Whether you operate physical appliances to monitor traditional workloads or measure the performance of virtualized systems, NETSCOUT's hardware independent architecture is designed to operate in your environment of choice. We support physical appliances, virtual compute and storage resources on-premises, virtual networking on-premises (SDN/NFV), SDDC, and public, private and Hybrid Cloud. Our software solutions can run across mixed environments and access compute and storage resources anywhere.
NETSCOUT offers true system-level visibility into all applications, infrastructure, and interdependencies down to the subsystems and services that run on them. With Adaptive Service Intelligence (ASI+) technology, NETSCOUT continuously monitors and processes traffic data at the source and generates truly smart data that can be analyzed in real time or efficiently stored, using minimum necessary storage space, for future analysis.
Our solutions offer end-to-end visibility across all service tiers to assure service delivery and a positive end-user experience.
With evidence-based analytics, both development and operations teams can monitor the performance of applications and services across the enterprise. IT staff can view wire data and glean insights into performance with metrics such as responsiveness, new and active session counts, and application-specific error codes for applications.
NETSCOUT provides proven solutions that unlock the power of NetFlow, sFlow, J-Flow, IP FIX, MIB-II, IP SLA, and wire data to efficiently deliver service assurance in the world's largest and most demanding networks. We enable you to leverage intelligent analytics in order to generate reports for all audiences, from key executives and business stakeholders to IT operations staff tracking daily bandwidth consumption. Our solutions allow you to effortlessly monitor not just how much bandwidth your users are using, but how they're using it.
Talk to an Expert
Let us show you how our solutions for service assurance provide in-depth network and application performance intelligence that ensures the success of IT service delivery. Talk to one of our highly-experienced subject matter experts to find out how you can overcome your capacity planning and reporting challenges.
NETSCOUT'S solution enables your IT organization to:
Create ad-hoc or scheduled reports to deliver key insights to all stakeholders

Customize reports to ensure that meaningful metrics are delivered where they're needed most

Leverage multiple traffic utilization data sources including NetFlow, MIB-II, and wire traffic

Improve cross-team collaboration

Plan out new application rollouts or data center turn-ups

Manage existing network capacity to remote or branch offices

Analyze service performance to ensure sufficient bandwidth is available and QoS policies are tuned correctly for optimum end-user experience
Products in this Solution
nGeniusONE Service Assurance Platform
The nGeniusONE Service Assurance platform streamlines service delivery assurance and management activities.
Download PDF
Performance Mgmt with nGenius for Flows
NetFlow and other similar flow-based data sources provides a cost-effective way of collecting network and application performance details from remote and branch office locations.
Download PDF