Enterprise
NETSCOUT brings enterprise users together over a course of five days comprised of in-depth education, collaboration and hands-on training. Hear industry experts and spend valuable time with your peers as you learn how to gain key insights into your network and discover new ways to successfully achieve your most complex business and IT challenges.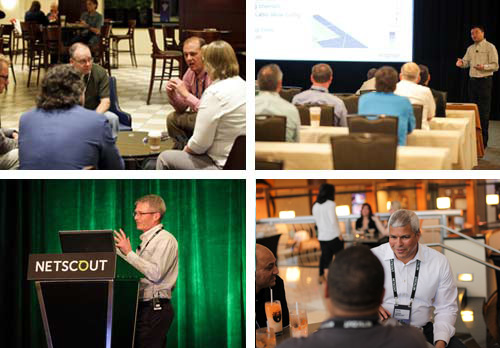 Key topics for Enterprise customers include:
How to effectively manage the hybrid network – cloud, virtual, on-premise
Explore proven methods for faster and more reliable problem resolution
Improving visibility into infrastructure and application performance issues
Assure the deployment and management of custom applications using nGeniusONE
Integrating service assurance tools for improved visibility
Technology classes – from the fundamentals to advanced topics in WLAN, TCP and more!
The essentials, technologies and best practices to effectively manage UC/VoIP/Video
Improving service levels by developing a runbook process for managing your nGeniusONE environment
Network performance testing – for network assessments, SLA verification, and infrastructure validation
Real-word use cases presented by your peers
Justify Your Attendance
Download and Customize Your Request to Attend
Your attendance and participation at NETSCOUT's ENGAGE 17 technology summit will pay for itself and then some. And if you need help demonstrating the value with your manager, we have done some legwork for you with our customizable manager and justification letter.
Download Justification
Download Manager Letter