In today's challenging economic times, business productivity takes precedence over many other considerations. Poor service performance has grown from a subjective user satisfaction problem into one quantifiable in lost revenue or productivity.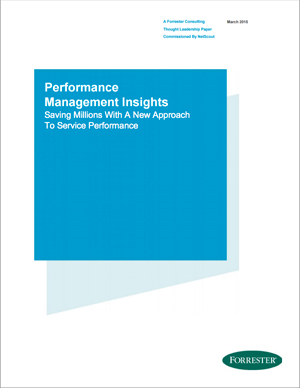 To achieve satisfactory quality of service, IT infrastructure and operations (I&O) professionals usually monitor what they believe to be the weakest service delivery infrastructure links. Over time, the focal point has moved from networks to systems to application code. But the current complexity of business services is such that issues can spring from anywhere in the service delivery chain.
To explore best practices in resolving performance problems, NETSCOUT commissioned Forrester Consulting in August 2014 to evaluate the notion that an end-to-end service performance management approach across application, network, server, and database is superior to traditional methods in providing a holistic view of service performance.
DOWNLOAD NOW!