Inscreva-se já para receber novidades da NETSCOUT sobre continuidade dos negócios.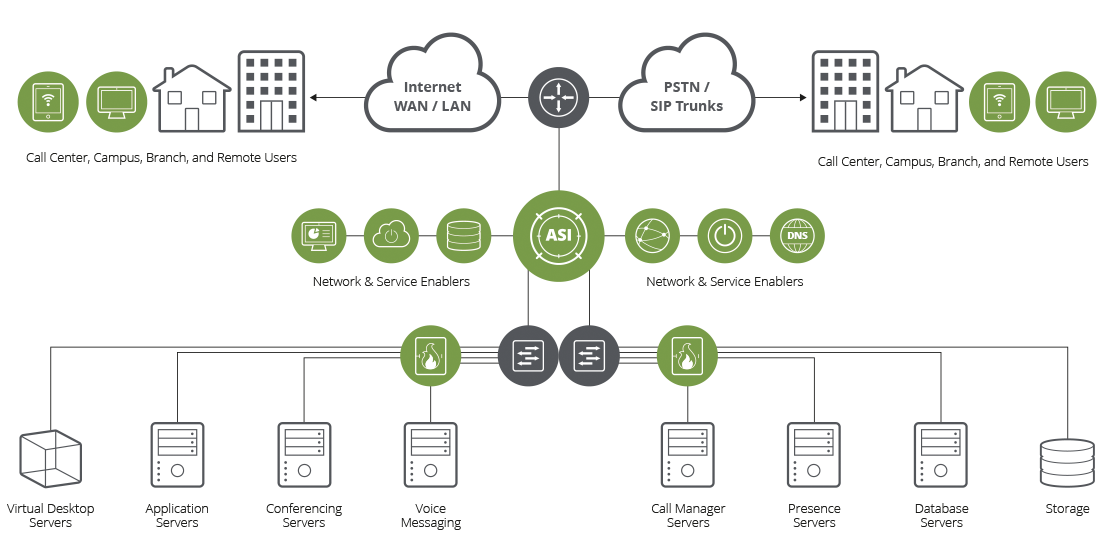 As organizações implementaram políticas de trabalho em casa com uma rapidez inédita. Agora, os usuários que trabalham em casa estão aumentando a demanda dos serviços de UC para se comunicar com os escritórios e com os clientes para realizar as tarefas do dia a dia.
A infraestrutura central de UC e os sistemas de negócios de back-end continuam no data center, mas agora são acessados pelos usuários em suas casas, por meio de uma VPN e da internet. Isso está provocando grandes mudanças nos volumes de tráfego nos principais pontos de entrada de dados dos data centers.
A visibilidade adequada desses sistemas e protocolos importantes de habilitação de UC é necessária para entender os problemas da experiência de UC e identificar suas causas básicas em arquiteturas complexas de UC interconectadas. As conexões precisam ser monitoradas de forma constante, já que os perfis de tráfego desses pontos de entrada mudaram, devido ao aumento da demanda pelos funcionários que trabalham em casa. Sem esse nível de visibilidade e análise, serviços de UC de alta qualidade podem se perder, reduzindo a produtividade dos usuários remotos, piorando a experiência do cliente e, consequentemente, diminuindo a receita.
Com a implementação da NETSCOUT no data center, nos pontos de entrada da borda das conexões de internet e nos controladores de borda da sessão aos troncos SIP, a plataforma de garantia de serviço nGeniusONE pode:
Garantir o desempenho dos serviços de UC críticos para a qualidade de mídia e de sinalização, agilizando a solução de problemas.
Fazer a triagem de serviços de voz da borda para ajudar na diferenciação entre problemas no local ou relacionados a provedores de serviços envolvidos.
Gerenciar a utilização da largura de banda e o QoS da infraestrutura de rede tanto no interior da empresa quanto para a internet.
Garantir o desempenho do firewall da VPN com a análise dos fluxos de tráfego de VPN dos dois lados dos firewalls críticos, mostrando como eles condicionam o tráfego de entrada.
White Paper
Expert Tips to Keep Your Unified Communications Communicating
Expert Tips to Keep Your Unified Communications Communicating
Áreas prioritárias de UC&C
Entre em contato conosco hoje mesmo para ajudar os usuários remotos a manter a continuidade dos negócios.