What is Test Lab Automation?  |   Spectra2 SE2  |   Spectra2 XL3  |   Spectra2 3u
SPECTRA2 XL3 FOR HIGH PERFORMANCE SIGNALING AND MEDIA TEST SOLUTION FOR EPC AND IMS

Performance Testing is the only way to avoid signaling storms and assure service Quality of Experience (QoE). The Spectra2 XL3 hardware platform from NETSCOUT is an IMS and EPC test solution that enables customers to drive extreme levels of IP signaling and media traffic into the network. In doing so, Spectra2 XL3 can help verify multi-dimensional network performance and deliver services with confidence.
Performance is one of the key factors used to ensure end-to-end LTE network stability. With the increase in new applications and devices requiring greater bandwidth, signaling volumes are growing exponentially. The Spectra2 XL3 can drive traffic to those extreme levels, reaching hundreds of thousands of transactions per second, so you can stress test your critical network functions with protocols such as SIP, H248, DIAMETER, and SIGTRAN, among others.
Spectra2 XL3 can originate and terminate the high volumes of media sessions needed to assure that gateways deliver on customer demand with appropriate levels of QoS. To mitigate risk, the Spectra2 XL3 provides a comprehensive test platform to validate the network from both signaling and media performance perspectives.
All this is delivered with the award-winning Spectra2 software application – a multi-user, multi-protocol, multi-media, single source application that spans all your core test needs.
Spectra2 XL3 for EPC Test and IMS Test
Effective IMS and EPC test solutions, at a minimum, must provide some basic functions:
Standards based Conformance Testing
Functional Testing of Signaling Call Flows and Media Streams
Media QoS and QoE Measurement, and
User and Element Simulation, and
Performance or Stress Testing
A superior test platform must go above and beyond these basic components providing all these functions in a single high capacity green footprint that allows you to drive your EPC and IMS Cores to their breaking points for signaling, media, and functionality.
IMS Test and EPC Test Ensures Return on Investment
The Spectra2 XL3 provides a myriad of benefits:
A single platform for  IMS Test and EPC Test saves capital spend
High volume signaling and media enable peace of mind during the impending capacity storms
A single energy efficient platform reduces your year over year operational cost
The multi-user  easy-to-use application means maximum productivity
Built-in automation capabilities allow the machine to work for you
Targeted Test Domains
Spectra2 XL3 is powered by advanced signaling and media generation capabilities that enable high performance testing of protocols including SIP, Diameter, TCAP, and RTP. This holistic approach to performance testing helps test and tune the following network nodes: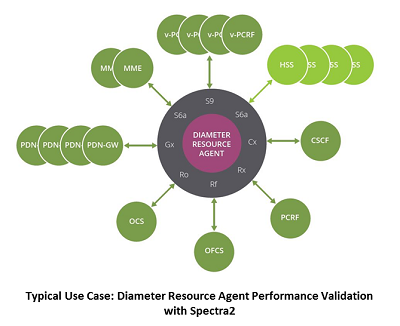 Diameter Signaling Controller
Diameter Routing Agent
Home Subscriber Server
Mobility Management Entity
Policy Server
PDN Gateway
Charging Systems
Call Server Control Function
Media Control Servers
Media Gateways
Session Border Controller
IMS Application Server
…
White Paper
Quick Look
Data Sheet
S-Blade Pro 1/10/40G Layer 1 Switching with Lab Equipment Utilization Metrics
The nGenius 3900 Series for Test Lab Automation with integrated S-Blade Pro from NETSCOUT delivers an intelligent Layer 1 switch solution for 1, 10 and 40G connections.
Download PDF
Spectra2 XL3
High performance signaling and media test solution for EPC and IMS.
Download PDF
Spectra2 Software Edition
An intuitive test solution for lab and production networks.
Download PDF