SIP/SCCP/H323 RTP CALL SIGNALING AND MEDIA PROTOCOL ISSUES
nGeniusONE reduces MTTR and quickly pinpoints the true source of the issues impacting call quality and connection issues with SIP trunking services
Next-generation SIP trunking environments are notoriously complex with different vendors for the enterprise PBX equipment, session border controllers and ITSPs making identification and resolution of these issues a challenge.
Featured Resources
Visibility Into Signaling & Media Protocol Issues From an End User Perspective
nGeniusONE Platform Pinpoints Common Voice & Video Call Signaling Issues:
Registration with SIP Trunk service provider, call setup, teardown latencies and response times
Number of failures and error codes
SBC load balancing problems
SIP Trunk interoperability issues
Identify SBC failures
WAN capacity management issues encompassing network bandwidth and queue management, as well as component capacity management
SIP Trunking and Unified Communications Life Cycle Management:
SIP Trunking and Unified Communications Life Cycle Management
nGeniusONE's intuitive workflows leverage the real-time Service Dashboard, Service Monitors, Dependency Mapping, Session Analysis.
SIP Trunk – PSTN – WAN – APPLICATION SERVICES IN ONE VIEW: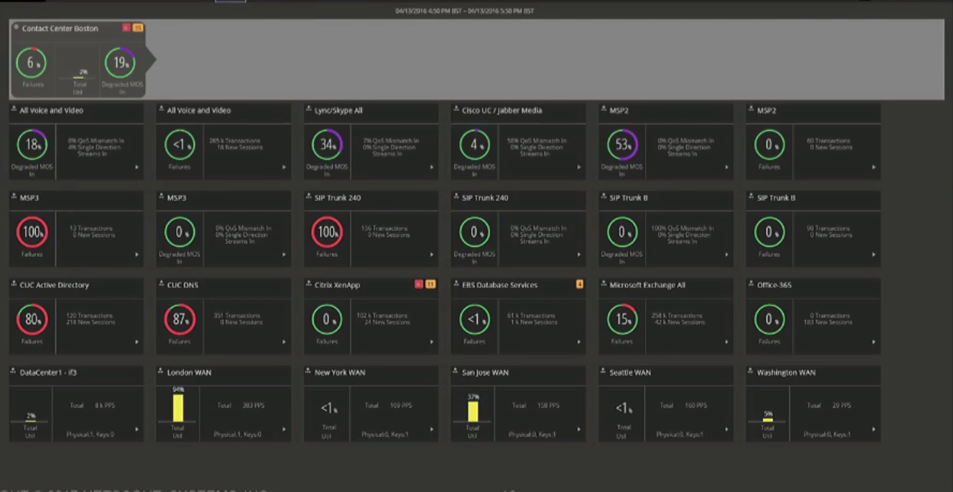 CLICK TO VIEW
MONITOR YOUR SIP TRUNKING LIFE CYCLE:
READINESS TESTING
Is my WAN Infrastructure ready?
Pre-Deployment Testing & Capacity Analysis
DEPLOYMENT
Quickly iron out unexpected issues
Deploy SIP Trunk Across UC Environment
IN-SERVICE
Quickly iron out unexpected issues
Track UC (SIP Trunk Performance) MOS, Responsiveness, Errors, and Usage
SERVICE OPTIMIZATION
Improve Agility and End User Experience
Continuous Monitoring of Bandwidth, Usage and Performance
---
The nGeniusONE platform examines all your service-level interactions to deliver performance of application tiers, network, service enablers, and end users to understand the full context of voice and video service anomaly.
The nGeniusONE platform performance data can be viewed by a range of keys such as location (community of users),QoS level, codec, VLAN, servers, applications,etc. This enables the nGeniusONE platform to offer efficient top-down approach to problem identification, service triage, and resolution.
Ensure rapid discovery of service impacting problems, improved IT productivity and quick return to high-quality user experience for your customers and employees.
nGeniusONE Platform Supports Multiple SIP Trunk-Related Vendors Like: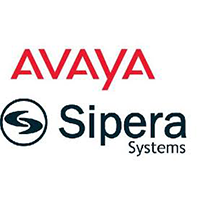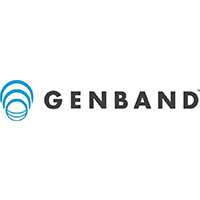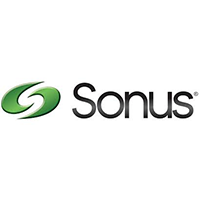 The nGeniusONE platform leverages rich packet-flow data removing the need to rely on server agents or vendor- specific metrics, or a multitude of point tools requiring a specific skillset to operate.
Work Less. Do More. With UC Visibility:
In a Converged Network You Need to Ensure the Quality of End User Experience as Much as the Cost Savings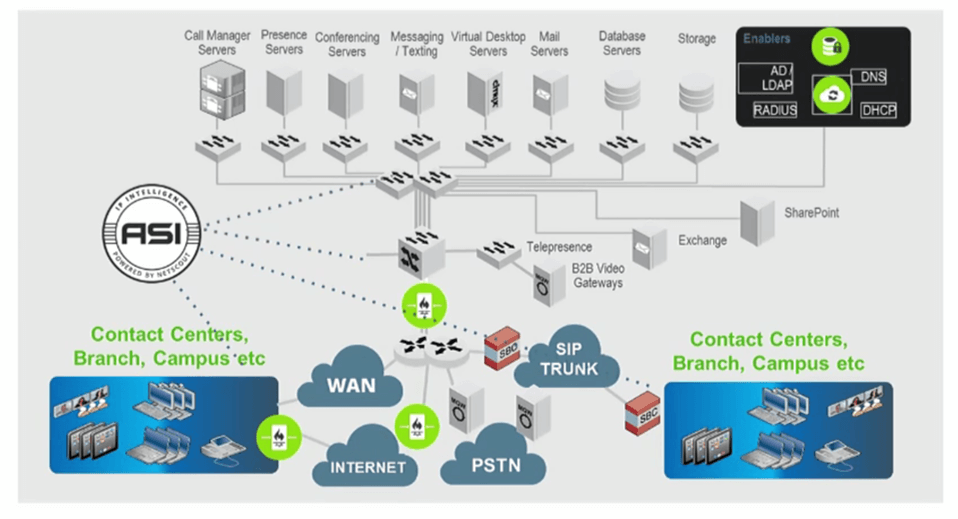 CLICK TO VIEW
Most Common Issues:
Codec Mismatch
One way Audio
No Audio
Trunks Dropping "Intermittently"
Trunk Registration Failure
Poor Quality (delay, jitter, packet loss)
Diagnose Incidents in Seconds with Real-Time Unified Communications Visibility:
The nGenusONE platform provides you visibility into the relationships and interrelated nature of the overall network infrastructure, application services, signaling, and enabling protocols such as DNS, DHCP, Active Directory/LDAP which are necessary to deliver voice and video services.
Using contextual workflows, and the precise location and the source of voice and video call quality issues can be quickly identified in a matter of few seconds due to the system-wide visibility not available with other tools.
The nGeniusONE platform provides service-oriented workflows to enable seamless, contextual transitioning across multiple layers of analysis. This allows you to facilitate efficient and informed hand-off of incident response tasks across the different IT groups and service provider support groups involved in end-to-end service.
SERVICE & ASSURANCE FOUNDATION FOR UC&C | CUSTOMER RATINGS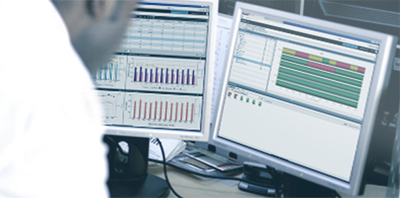 An Engineer of a medium enterprise retail company would be likely to recommend NETSCOUT nGeniusONE Platform for this reason:
"It is intuitive, well designed, and provides IP intelligence that many organizations desperarely need."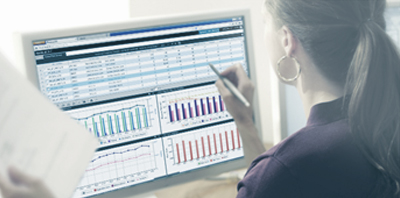 An IT Manager of a large enterprise health care company recommmends NETSCOUT nGeniusONE because:
"The breadth, depth, and granularity of the proactive monitoring available within the NETSCOUT nGeniusONE Service Assurance platform is second to none."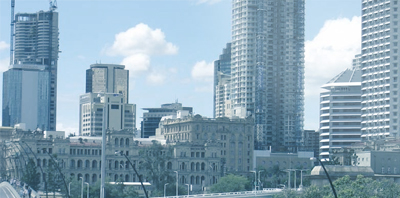 Federal Government Agency says NETSCOUT nGeniusONE "Best in Class" for UC&C:
"nGeniusONE UC&C monitoring for SIP trunking, call servers, voice and video performance is "Best in Class" when compared to alternative solutions for helping to solve service performance problems in their IT infrastructure."
nGeniusONE Demo Request
Request a Free nGeniusONE Demo