Packet Flow Switches & Taps
Deliver cost-effective and complete packet visibility while streamlining your monitoring architecture and reducing security risks.
Monitoring plane for the connected world
You need a unified visibility plane that allows multiple groups to access traffic flow data without creating disruptions. After all, there is no off. That's why you need the ability to make dynamic connections from any TAP point in your network to any tool.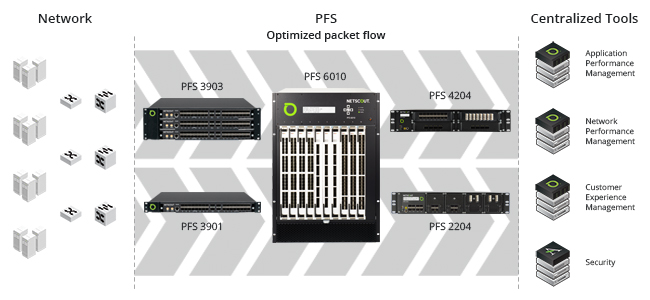 Ready for anything
As your traffic volume grows, so too should your readiness to respond to issues as they arise. The NETSCOUT nGenius Packet Flow Switch and TAPs family enables multiple IT groups to aggregate, replicate and manage the flows of traffic throughout the network, whether it's for application performance monitoring, Unified Communications (UC), or security. Traffic management and security enablement capabilities ensure risk-free deployment of inline security and threat detection systems.
Simplify and streamline your monitoring architecture
By combining industry-leading NETSCOUT nGenius Packet Flow Switch, passive TAP, and our highly flexible nGenius PFS management platform, we simplify traffic acquisition and distribution for diverse network traffic operations, including performance management, service delivery management, and security monitoring. Our robust family of TAPs provides InfiniStream appliances powered by Adaptive Service Intelligence (ASI) technology, and nGenius packet flow switches with full access to network traffic, while remaining transparent to the networking infrastructure and eliminating disruption to traffic or protocol transactions.
Our TAPs and nGenius Packet Flow Switches include features such as:
Dynamic connections from any TAP point in the network to any tool
Advanced packet conditioning, which simplifies network engineering, lowers costs, and offers better scalability of features
Scalable, modular architecture provides seamless growth with investment protection
Easy-to-use management platforms foster IT collaboration
"The nGenius provides us with the flexibility, scale and intelligence needed to support our high-demand network monitoring environment."  -Hydro-Québec
The packet flow switch architecture enables a unified visibility plane that scales and operates dynamically, enabling pervasive visibility through the use of NETSCOUT InfiniStream, part of the nGeniusONE Service Assurance platform, or security systems, regardless of infrastructure modifications or changes in the source of network traffic. With packet flow switches from NETSCOUT, enterprise service assurance and monitoring tools can be physically anywhere and logically everywhere.
Active Security
In the ongoing race to stay ahead of advanced persistent threats and and continually improve cybersecurity posture and capabilities, organizations must take a proactive approach. NETSCOUT packet flow switches provide critical visibility to combinations of security solutions, such as inline network protection and passive out-of-band intrusion detection appliances, as well as active payload analysis offerings. PFS systems, in an active-protection deployment, increase reliability and simplify scale out. If any active inline security applications fail, they may be bypassed or traffic can be sent to another system. A unified visibility plane enables you to implement multiple security systems and create a pervasive defense architecture against a broad range of attacks.
Products:
Products You Can Trust
In an increasingly complex, vulnerable, and connected world, NETSCOUT gives you the confidence to operate, innovate, and compete at the highest level. Let us show you how NETSCOUT Packet Flow Switches and TAPs provide the foundation for a scalable monitoring architecture needed for service performance management and security.