Arbor Cloud for Service Provider
Addressing Service Provider's Challenges
Every Second Counts
When your infrastructure or customers are under a DDoS attack, every second counts.
When an attack occurs, speed and agility are critical to business continuity. In the event of a volumetric attack that will overwhelm an ISP's Arbor TMS mitigation capacity, using a powerful feature called "Cloud Signaling™" the ISPs' Arbor SP product can automatically notify and reroute attack traffic to an Arbor Cloud scrubbing location where the attack is mitigated. Arbor Cloud has multiple worldwide scrubbing centers with multiple terabits of scrubbing capacity that can handle today's largest and most complex attacks that threaten the availability of your infrastructure, critical assets and your connectivity to your customers.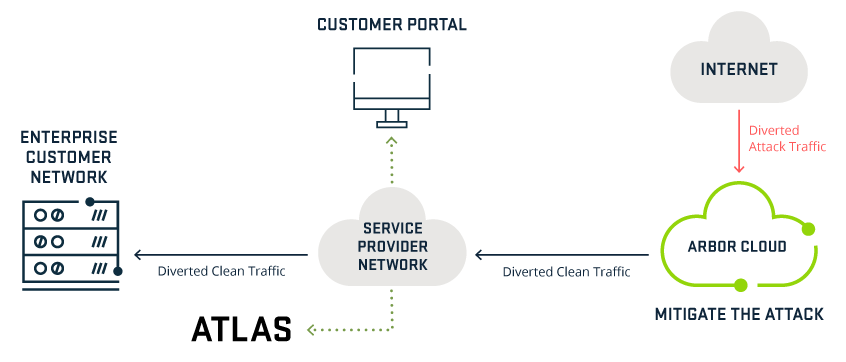 Arbor's industry leading cloud-based DDoS protection solution – Arbor Cloud – is now available for Service Providers to protect their infrastructure and their customers from DDoS attacks.
Arbor Cloud for Service Providers leverages Arbor's ASERT team for their deep knowledge and industry-leading experience of DDoS attacks, botnets, and attack campaigns to combat threats facing your network or your customers
Highlights
Augment Your Available Knowledgeable Staff
As DDoS attacks become more frequent and more complicated, Service Provider SOCs are becoming strained for ready knowledgeable resources to combat any attack. Now with Arbor Cloud for Service Providers available, Service Providers can leverage the Arbor Cloud to be an extension of the SOC, for Arbor's expert staff in addition to its world-class mitigation cloud capabilities.

Augment Your Infrastructure Protection
As DDoS attacks escalate in size and complexity, service providers face the challenge of deploying more internal DDoS mitigation capacity to keep up with continually larger and more sophisticated attacks. Arbor Cloud for Service Providers balances the need for additional mitigation capacity without breaking the budget.

Enable and Augment Your Customer Protection
Maintaining the availability of network infrastructure, while critical to a service provider, does nothing for a customer, if their last mile connectivity becomes saturated. As more Enterprises from more industries become targets of multi-vector attacks, Enterprises are turning to their Service Providers to not only maintain the availability of their Internet connectivity, but also protect them from attacks regardless of their ISP or location. Arbor Cloud can provide that cloud-based attack protection for your customers either through a single service that protects an entire service provider network or as a per customer service that a Service Provider can re-sell to their customers.
…
Data Sheet
Solution Brief
White Paper
Arbor Cloud for Service Providers
Augment your local mitigation capacity and staff with Arbor Cloud for Service Providers.
Download PDF
Going Over The Top
DDoS Protection Assurance with Arbor Cloud for Service Providers
Download PDF
Effective DDoS Mitigation in Distributed Peering Environments
This white paper, co-developed with Cisco Systems and NETSCOUT discuss the need for large infrastructure networks to move to a distributed peering design.
Download PDF
Contact Us
If you would like to learn more about our products, or if you require specific information, please complete this form. Our North American toll-free number is +1 855 773 9200. Our International number is +1 781 362 4300.