Enable Business Assurance
with Packet Flow Systems
Deeper Packet Visibility
for Service Assurance and Cybersecurity
Need visibility into virtualized network environments? Transitioning from passive to active security systems? Are your monitoring systems not able to handle sophisticated protocols, resulting in false positives or traffic not being inspected?
You need deeper packet visibility to meet today's IT and security challenges. Deep visibility enables you to continuously monitor real-time traffic across all of the technologies used to deliver business services. With advanced packet processing capabilities, nGenius Packet Flow Systems provide the foundation for a scalable packet acquisition and monitoring architecture needed to support both service assurance and cybersecurity, building up to business assurance success.
Packet Visibility Leader
Create deep visibility into packet flows, either for service assurance or for cybersecurity with these capabilities:
Service Assurance
Flexibility in forwarded traffic
For virtualized environments, choose to de-encapsulate packets, forward it on encapsulated, or do both. Use the information in the encapsulation headers to provide deeper visibility into the packet data, such as port and time stamp information.
Traffic origination visibility
Through integration with the nGeniusONE service assurance platform, see from which links on the network a particular packet flow originates with customizable VLAN tagging. Inspect traffic based on origin, which is critical in multi-tenant environments.
Visibility into tunneled packet flows
Use generic stripping (de-encapsulation) capabilities to give monitoring tools more packet visibility. Packets can be de-encapsulated from tunnels and inspected, so your service assurance platform can see things that were previously hidden within these protocols.
Cybersecurity
Advanced inline aggregation
Solve the problem inherent in traffic aggregation from multiple networks, by eliminating the need for additional VLAN tags. In large-scale dynamic network environments with asymmetric routing, enable your security systems to inspect and analyze packet flows, and return them to the source of origination on the network correctly.
High frequency advanced health checks
Go beyond a simple interface (port up/down) or "heartbeat" ping to see if security systems are on. With L7 application-level functionality health checks as frequently as every 100ms, ensure the security application or device is functioning as expected, reducing time to detect security system failure. Used in combination with triggers, health checks enable high availability and automatic failover, to simplify operations and reduce security risk.
Enable security systems that provide both active and passive capabilities, such as intrusion prevention (IPS) and intrusion detection (IDS). No need to choose only passive or only active mode, nor do you need to run two systems (one active and one passive) in parallel. Use hybrid mode on PFS for better port utilization and efficient use of security systems.
Optimize your monitoring infrastructure
Packet flow systems create a unified packet plane, allowing your systems to be physically anywhere and logically everywhere. They greatly simplify adds, tests and changes to your security and service assurance infrastructure—imagine being able to do a pilot of a new system in hours or days, vs. weeks—and without touching the network. Pick the nGenius packet flow system that's right for your environment:

nGenius Packet Flow Switch 4204
Line-rate performance up to 640Gbps and inline security-optimized
40/10/1G

nGenius Packet Flow Switch 2204
Line-rate performance up to 240Gbps and inline security-optimized
10/1G

nGenius Packet Flow Switch 3901
100/40/10/1G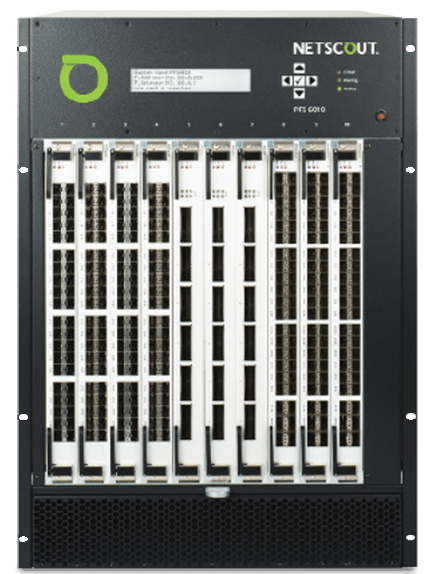 nGenius Packet Flow Switch 6010
Massive scale and density—up to 6Tbps at line rate
100/40/10/1G