Free Webinar
See the First Packet Broker Built for the Age of Software
The software revolution in business is driving increased demands on IT organizations across the globe. Now, NETSCOUT is taking that same software-driven approach to packet visibility—to help IT meet those demands in a cost-effective and scalable way.
Join Sarah Banks, director of product management at NETSCOUT, as she unveils the latest evolution in packet broker technology.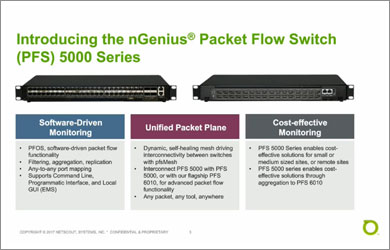 Get Insights You Can Use
Attend this webinar and receive:
A detailed look at the nGenius® 5000 series
Use cases for this new technology
Expert answers to your questions
And more…
Discover what the next step in network visibility architecture means for you. Register today.
RECOMMENDED RESOURCES
Learn About Packet Broker 2.0