Free Report
Achieve Unprecedented Cost Savings
The evolution toward hardware and software disaggregation with open networking has given rise to a new generation of network packet brokers. More flexible in deployment and effortlessly-scalable than traditional solutions, these packet brokers deliver the core capabilities you need at a fraction of the price you'd expect.
IHS explains just how much more you'll save with software-driven packet brokers in this latest report.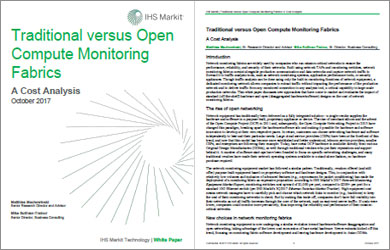 Discover the Value of Disaggregation
This report by IHS has all you need to understand the cost-effective benefits of this breakthrough in packet broker technology, including:
Analysis on the shift toward disaggregated packet brokers
Cost comparisons for traditional and Open Compute solutions
Pros and cons worth considering for each approach
And more…
Don't miss out on the benefits that come with a software-driven approach to your monitoring fabric. Read this report now.
RECOMMENDED RESOURCES
Packet Broker 2.0 Architecture
PACKET BROKERS EVOLVED