Free Webinar
Get expert insights to keep your network safe
In this webinar from SANS, discover the latest cyber-attack methods and approaches facing security teams. Learn how to quickly identify malicious network traffic and how to achieve faster detection and response times.
You'll also see solution demonstrations from Arbor Networks and NETSCOUT that will help you act on the research and recommendations provided by SANS Institute.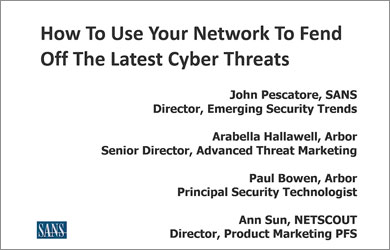 The right solutions for the latest cyber threats
Watch this webinar and receive:
New research on the latest security threats
Helpful tips on how to protect your network
Detailed solution demos from NETSCOUT and Arbor Networks
Register now and learn how you can take advantage of this evolution in packet flow technology with the latest research from ACG.
RECOMMENDED RESOURCES
10 Key Security Visibility Questions
SANS Security Best Practices Webinar