FREE EBOOK
Are You Prepared To Take On Modern Security Threats?
As security threats proliferate and vulnerabilities continue to reveal themselves, you need to work harder than ever to keep your network safe.
Now, arm yourself in the battle for network security with the NETSCOUT 2017 Network Security Brief.
This brief, consisting of key insights from the latest SANS Institute research, has all you need to integrate industry-wide best practices into your IT security organization and bolster your architecture to defend against today's security threats.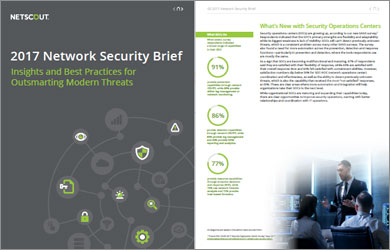 Bolster Your Network Security With Trusted Insights From SANS
With this latest research from SANS you'll discover:
New strategies for optimizing SOC and NOC collaboration
Network security best practices from across the IT industry
How to leverage POCs for streamlined security deployments
Key questions to ask when evaluating security solutions
Prepare yourself and your network for the security challenges of tomorrow. Download now.
RECOMMENDED RESOURCES
SANS SECURITY BEST PRACTICES REPORT
SANS FUTURE SOC WEBINAR