Free White Paper
Learn How to Extend the Life of Your Tools
More data equals more demands on the network, and increased IT workloads. Organizations are migrating their data centers to 10G and even 40G to handle these high demands. And with network upgrades done in a piecemeal fashion, how can you avoid speed mismatches and silos of visibility for your network monitoring and security solutions all while easing lengthy deployment cycles?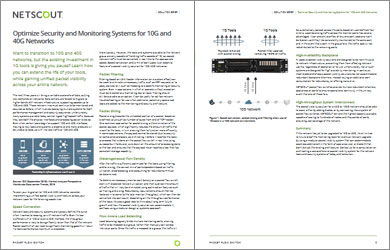 Simplify Network Upgrade Cycles
In this white paper, learn how monitoring tools, security systems, and your IT staff, can overcome these challenges and ease the network upgrade cycle.
Read how packet flow systems deliver:
Packet slicing
Load balancing
Speed conversions
Port density mapping
To ensure your lower speed monitoring tools or security systems function with maximum performance regardless of what the network sends their way, Read now.
Download Your White Paper
RECOMMENDED RESOURCES
Security Visibility for Dummies
Boost Network Security