Free Webinar
Obtain Complete Network Visibility
The Digital Transformation isn't bringing you any more resources. It is getting harder to meet internal and external customer demands as the network grows and gets more complicated. Obtaining complete network visibility to meet business assurance requirements isn't going to be any easier as we migrate to high-density, high-speed networks embracing 10, 40, and 100Gbps. There is a way to gain visibility and see it all.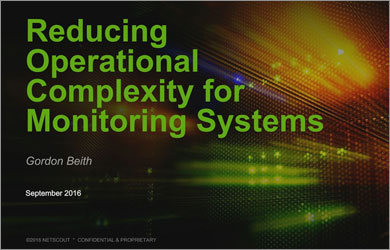 Tackle Digital Transformation
Watch our webinar, Reducing Operational Complexity for Monitoring Systems, and learn how together we can enable complete network visibility into packet flows across your networks.
We will cover use cases in high density monitoring:
Handling complex tunneling protocols, such as VoLTE and IMS

Dealing with highly virtualized, multi-tenant environments

How high density can support performance at line rate
See how a packet flow architecture can increase service assurance and allow you to take the first step required to tackle digital transformation and gain complete network visibility. Watch now.
RECOMMENDED RESOURCES
Enable Business Assurance