Free Webinar
Connect the Dots with Packet Visibility
The drive towards digitization within organizations is blurring the lines between business and IT. Adapting to this digital world requires a new strategy and approach.
But are you ready?
Join industry analyst, Jim Metzler, for The New Mandate for Monitoring Infrastructure, where he looks at the developments making monitoring within the data center more complicated, and at the solutions to challenges they present.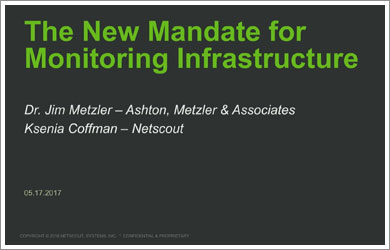 Understand the Technological Trends Driving Change
Attend this session to learn about:
Trends affecting packet flow visibility
The Organizational impact
Architecting a unified packet plane
View now and learn how to overcome these monitoring challenges.
RECOMMENDED RESOURCES
Security Visibility for Dummies
Enable Business Assurance