Free White Paper
Understand the Technological Trends Driving Change
The drive towards digitization within organizations is blurring the lines between business and IT. In The Mandate for Converged Packet Visibility white paper, industry analyst Jim Metzler looks at the trends that are making monitoring within the data center more complicated.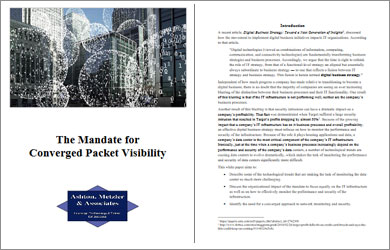 Optimize Your Network Visibility
Download the white paper to gain insights into:
Trends affecting packet flow visibility
Organizational impacts
Architecting a unified packet plane
Adapting to and managing the digital world and its impact on IT requires a new strategy and approach.
Read the white paper today to learn how to meet and overcome these monitoring challenges within the data center. Download now.
Download Your White Paper
RECOMMENDED RESOURCES
The Value of Middleware
Visibility for Dummies Webinar