Free Report
What's New in Network Monitoring
According to the latest Network Monitoring Equipment: Annual Market Report by IHS Technology (2016), 2 of 3 respondents stated they "have implemented or plan to implement network visibility and performance monitoring," in order to avoid costly network downtime.
IHS explains why so many in IT are leveraging dedicated packet flow switches with advanced features to provide service assurance and security visibility. Learn how deep experience and advanced features make NETSCOUT #1 in the service provider market according to IHS—the proving ground for high-density, high-speed network monitoring solutions.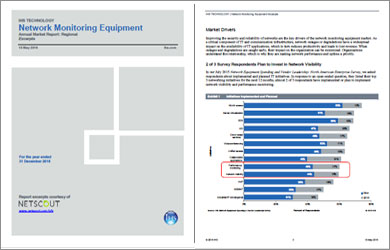 Understand the Latest Trends
Read the report and learn:
How network disruptions are costing an average $60M per year
How to ensure a scalable approach to packet visibility
What is driving the growth of network monitoring
Keep up with the latest developments in network visibility. Read now.
RECOMMENDED RESOURCES
Security Visibility for Dummies
Boost Network Security