Free Webinar
A Breakthrough in Packet Broker Technology
Software revolutionized the data center and it's changing what's possible when it comes to your packet visibility architecture.
Tapping into the cost-effective nature of Open Compute platforms, this new generation of software-driven packet brokers promises effortless scalability and pervasive visibility. This is packet broker 2.0.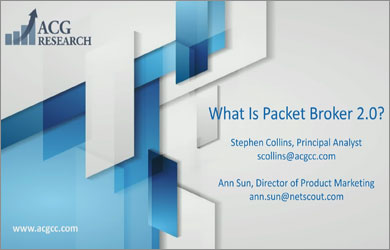 Get the Facts on Packet Broker Disaggregation
Join ACG analyst Stephen Collins and NETSCOUT Director of Marketing Ann Sun, as they delve into this major breakthrough in packet broker technology and explain how you can benefit from it.
Register now for an insightful hour of discussion that will cover:
An analyst overview of the network monitoring landscape
What a packet broker 2.0 architecture looks like
Deployment scenarios
Expert answers to popular questions
Learn how you can take advantage of this evolution in packet broker technology with the latest research from ACG. Register now.
RECOMMENDED RESOURCES
Learn About Packet Broker 2.0
Packet Brokers Evolved