NETSCOUT Customers Slash Service Delivery Problems
TechValidate Confirms Adaptive Service IntelligenceTM (ASI) Technology Improves Identification of Service Performance Problems and Reduces Mean Time to Knowledge (MTTK) by 80 Percent or More
WESTFORD, Mass. – Feb. 10, 2016 – NETSCOUT SYSTEMS, INC.  (NASDAQ: NTCT), a market leader in service assurance and cybersecurity solutions, today announced results from its customer survey through TechValidateTM, an independent researcher that generates and validates customer experience information. Data from the survey supports how NETSCOUT's continuous monitoring of traffic-based data and real time analysis to quickly locate service performance problems help customers navigate through digital disruptions to compete and innovate with confidence.
Highlights from the TechValidate "Voice of the Customer" survey include:
4 out of 5 NETSCOUT customers reduced their MTTK by 80 percent or more while simultaneously decreasing OPEX
9 out of 10 IT professionals agree that ASI technology offers comprehensive, end-to-end visibility of service delivery dependencies and interrelationships
8 out of 10 customers reduce time spent in the war room for core incidents by 80 percent or more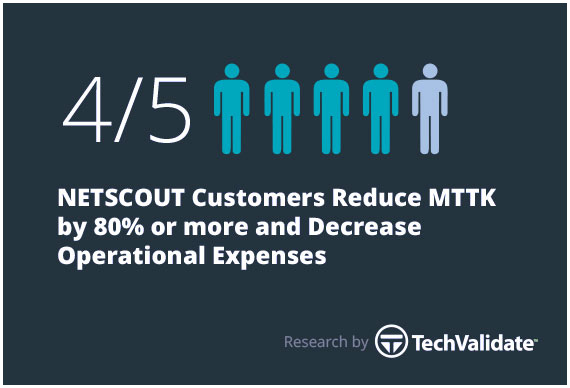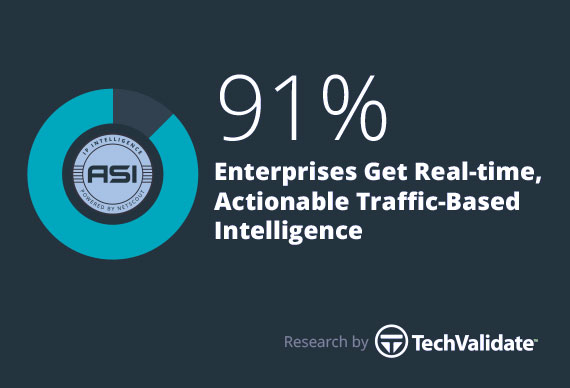 "Our customers did their due diligence and selected NETSCOUT's nGeniusONE® Service Assurance platform and ASI technology over the competition. The TechValidate results point to a broad range of customers who embarked on the journey of digital transformation, and are extremely pleased with how NETSCOUT is helping them innovate with confidence and achieve high value business outcomes," says Jim McNiel, chief marketing officer at NETSCOUT.
NETSCOUT sent out a survey to hundreds of IT professionals from more than a dozen industries scattered across the globe using the TechValidate Software-as-a-Service (SaaS) platform. The results were spectacular with customer satisfaction scores far exceeding the industry benchmark. Moreover, IT professionals surveyed have a strong propensity for recommending NETSCOUT solutions to colleagues.
Based on the collected and validated data, NETSCOUT published customer testimonials, case studies, blogs, and infographics, all of which can be viewed here.
The TechValidate survey results showcased how NETSCOUT customers use nGeniusONE and ASI technology for continuous monitoring and real-time analysis to deliver innovative business services and the highest quality user experience possible. Information Technology initiatives such as data center virtualization, Software-Defined Networking (SDN), cloud, BYOD and Unified Communications results in greater complexity and more things that can go wrong in the service delivery environment. Hundreds of TechValidate proof points show how IT professionals, as Guardians of the Connected World, use NETSCOUT solutions to deliver exceptional service performance by reducing downtime risks.
About TechValidate
A wholly owned subsidiary of SurveyMonkey®, and founded in 2007, TechValidate is a pioneer and leader in the marketing content automation field. TechValidate's on-demand offering is the first and only automated platform that collects and transforms customer experience data into credible content (case studies, ROI analyses, customer testimonials, customer reviews) for use across all key marketing and sales communication channels. The company serves customers from fast-growing startups to Fortune 500 companies and in industries, ranging from technology, financial services, life sciences, health care, and telecommunications. Learn more at www.techvalidate.com and view all vendor research in the TechValidate Content Library.
About NETSCOUT SYSTEMS, INC.
NETSCOUT SYSTEMS, INC. (NASDAQ: NTCT) is a market leader in real-time service assurance and cybersecurity solutions for today's most demanding service provider, enterprise and government networks. NETSCOUT's Adaptive Service Intelligence (ASI) technology continuously monitors the service delivery environment to identify performance issues and provides insight into network-based security threats, helping teams to quickly resolve issues that can cause business disruptions or impact user experience. NETSCOUT delivers unmatched service visibility and protects the digital infrastructure that supports our connected world. To learn more, visit www.netscout.com.
©2016 NETSCOUT SYSTEMS, INC. All rights reserved. NETSCOUT, the NETSCOUT logo, Adaptive Service Intelligence, Guardians of the Connected World and nGeniusOne are registered trademarks or trademarks of NETSCOUT SYSTEMS, INC., and/or its subsidiaries and/or affiliates in the USA and/or other countries. Third-party trademarks mentioned are the property of their respective owners.
Donna Candelori
NETSCOUT SYSTEMS, INC.