2017 Market & Technology Leader in Global DDoS Mitigation
Market Research and Consulting Firm Quadrant Knowledge Solutions Cites Arbor's Mix of DDoS Managed Services, On-Premise Mitigation, Scalability and High Customer Impact
BURLINGTON, Mass., April 11, 2017 – Arbor Networks Inc., the security division of NETSCOUT (NASDAQ: NTCT), announced today that Quadrant Knowledge Solutions, a global market research and consulting firm, has named Arbor the 2017 Market and Technology Leader in the Global DDoS Mitigation Market.
Quadrant's report covers distributed denial-of-service (DDoS) managed services as well as on-premise solutions. The report includes detailed competitive positioning and supplier landscape analysis of major DDoS mitigation vendors, including A10 Networks, Akamai, Arbor Networks, CloudFlare, Corero, Fortinet, Huawei, Imperva, Nexusguard, NSFOCUS, Radware and Verisign.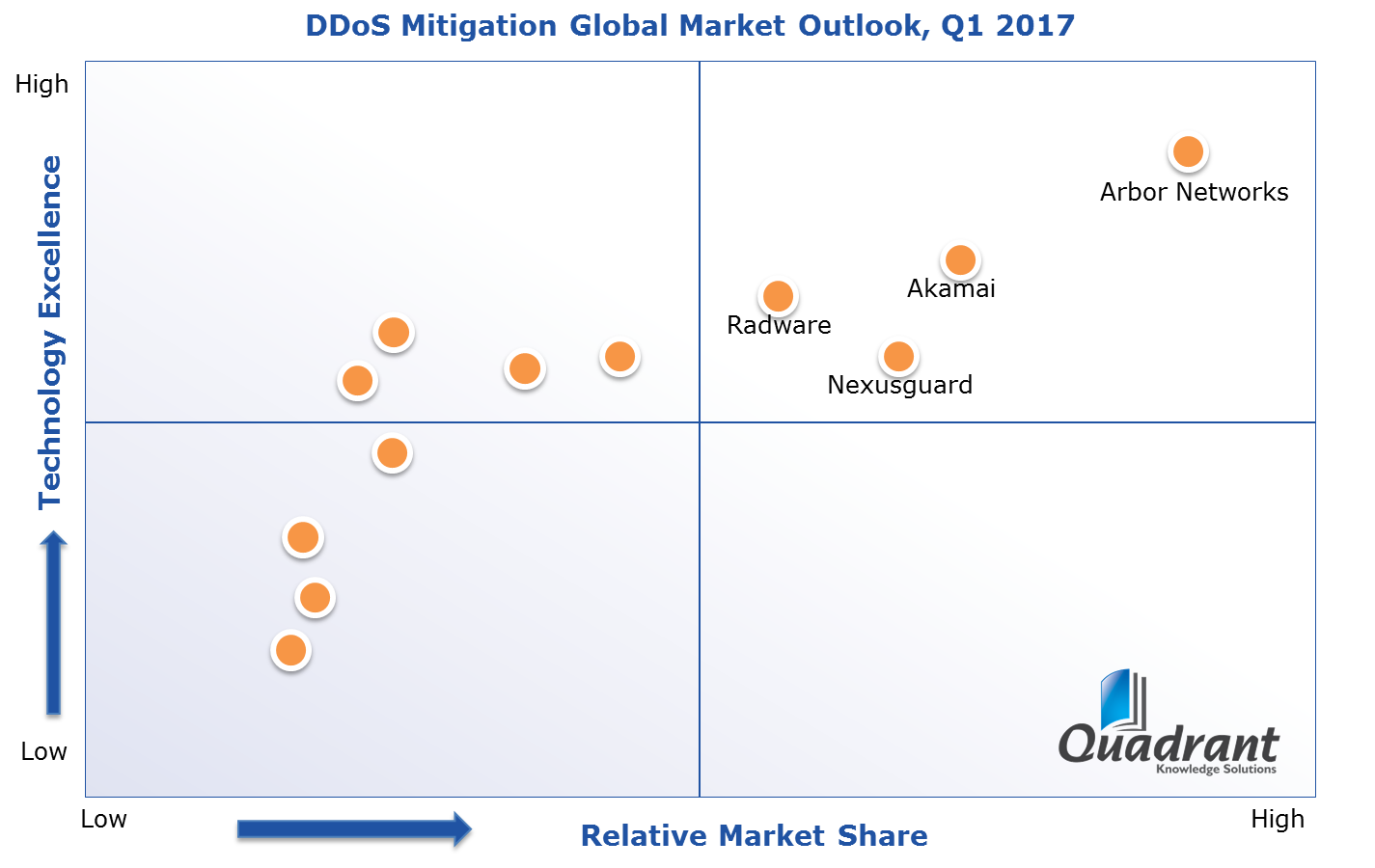 Arbor's portfolio of on-premise and cloud-based DDoS protection products and services are designed to meet the multi-dimensional needs of any organization, from smaller emerging growth companies to the largest enterprise and service provider network operators.
Managed Services: Affordable, fully managed hybrid, on-premises and in-cloud DDoS protection services.
Deployment Flexibility: From software-defined networking (SDN) and virtual solutions to embedded security in Cisco ASR 9000 Series Aggregation Routers, high density appliances and a global cloud.
Scalability: Starting at sub-100Mbps virtual solutions scaling to 160Gbps appliances to 2Tbps in the cloud.
Protections: From volumetric-only to application-layer and multi-vector attacks to advanced threats; continuously armed with global threat intelligences from Active Threat Level Analysis System (ATLAS) and Arbor's Security Engineering & Response Team (ASERT).
Pricing: Managed services subscriptions, perpetual appliances and virtual license pools.
For more information on the Quadrant Knowledge Solutions award and Arbor's hybrid approach to DDoS mitigation, click here.
About Arbor Networks
Arbor Networks, the security division of NETSCOUT, helps secure the world's largest enterprise and service provider networks from DDoS attacks and advanced threats. Arbor is the world's leading provider of DDoS protection in the enterprise, carrier and mobile market segments, according to Infonetics Research. Arbor Networks Spectrum™ advanced threat solution delivers complete network visibility through a combination of packet capture and NetFlow technology, enabling the rapid detection and mitigation of attack campaigns, malware and malicious insiders. Arbor strives to be a "force multiplier," making network and security teams the experts. Our goal is to provide a richer picture into networks and more security context so customers can solve problems faster and reduce the risks to their business.
To learn more about Arbor products and services, please visit our website at arbornetworks.com or follow on Twitter @ArborNetworks. Arbor's research, analysis and insight, together with data from the ATLAS global threat intelligence system, can be found at the ATLAS Threat Portal.
Safe Harbor
Forward-looking statements in this release are made pursuant to the safe harbor provisions of Section 21E of the Securities Exchange Act of 1934 and other federal securities laws. Investors are cautioned that statements in this press release, which are not strictly historical statements, including without limitation, the statements related to Arbor's portfolio of DDoS protection products and services, constitute forward-looking statements which involve risks and uncertainties. Actual results could differ materially from the forward-looking statements due to known and unknown risk, uncertainties, assumptions and other factors. For a more detailed description of the risk factors associated with NETSCOUT, please refer to NETSCOUT's Annual Report on Form 10-K for the fiscal year ended March 31, 2016 and NETSCOUT's subsequent Quarterly Reports on Form 10-Q, which are on file with the Securities and Exchange Commission. NETSCOUT assumes no obligation to update any forward-looking information contained in this press release or with respect to the announcements described herein.
Trademark Notice: Arbor Networks, the Arbor Networks logo and ATLAS are all trademarks of Arbor Networks, Inc. All other brands may be the trademarks of their respective owners.
Kevin Whalen
Arbor Networks