Greater Lowell Community Center for Business Philanthropy
The NETSCOUT Heart of Giving Community Program Awards $10K Grant to Help Residential Substance Abuse Treatment Program Implement "Growing for Life" Initiative
WESTFORD, Mass., June 21, 2016 – NETSCOUT SYSTEMS, INC. (NASDAQ: NTCT), a market leader in service assurance and cybersecurity solutions, today announced its Heart of Giving community program awarded its second grant through the Greater Lowell Community Foundation Center for Business Philanthropy. The grant program builds relationships with nonprofit organizations, and engages employees in learning about service opportunities in their own communities of Greater Lowell and Lawrence.  The grant was awarded to Megan's House, a Lowell residential substance abuse treatment and recovery home for young women.
"The mission of Greater Lowell Community Foundation is to connect businesses and individuals to the needs of their communities, and we are pleased to partner with NETSCOUT on an innovative grant process where NETSCOUT brings philanthropy into the workplace, and encourages employees to learn about – and participate in – the nonprofit network," said Jay Linnehan, executive director of Greater Lowell Community Foundation.
"Through NETSCOUT's Heart of Giving program, we have been able to support and encourage our employees to build strong relationships with nonprofits in our community," said Michael Szabados, chief operating officer and president enterprise business unit of NETSCOUT. "With corporate philanthropy at the heart of the culture at NETSCOUT, we strive to grow our local community presence, leverage our technology resources and encourage our talented employees to join new programs to serve and maintain our communities. One such example of this is Megan's House. The mission of Megan's House resonated with our employees as they recognized the impact this organization can have in the community. We are pleased to work with them over the coming year."
Megan's House Founder Tim Grover said, "Along with the various services Megan's House offers to combat addiction, we also work to teach the residents life skills that will help them grow to become strong, independent women when they eventually graduate our program and move on to the next step in their journey. The garden project is an important part of that process. Through the generosity of NETSCOUT and the Greater Lowell Community Foundation, this project can now become reality."
The Grant Process
From reading a grant proposal to learning about the organizations in the community and filtering through the worthy applications in order to select the finalists, the grant process was a learning experience for employees. Three finalists were selected and invited to NETSCOUT corporate headquarters to share how their organizations would best serve the community, how they would use the grant funds, and their ideas for employee community service projects. The presentations were live streamed to employees in NETSCOUT's local offices in Westford and Burlington. The grant of $10,000 awarded by NETSCOUT attracted 35 grant proposals, more than double the amount from the first year. Award recipient Megan's House will put those funds to good use creating a community garden and sitting area, as well as partnering with NETSCOUT employees on other projects during the year.
The NETSCOUT Heart of Giving corporate social responsibility program is comprehensive and includes disaster relief, community service projects, non-profit board service, employee matching gifts and corporate charitable contributions.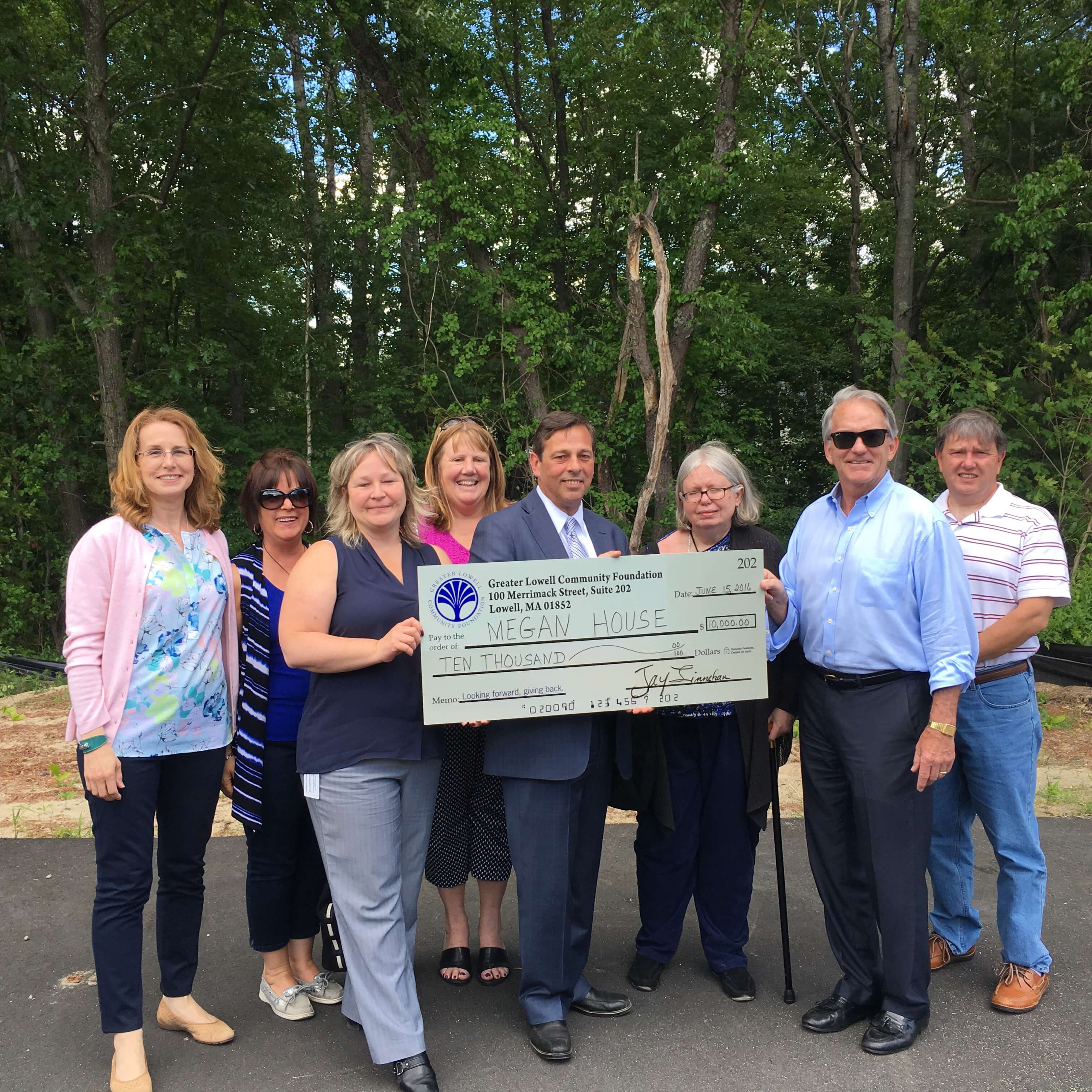 From left to right: Karen McCloskey, Linda Mirasolo, Kim Hampson, Beth Foley, Tim Grover Founder of Megan's House, June Nugent, Jay Linnehan Executive Director of Greater Lowell Community Foundation, Stephen Swidrak.
About Greater Lowell Community Foundation
The Greater Lowell Community Foundation fosters community growth and development through funding, leadership, and collaboration to transform the lives of the individuals and organizations we serve. We fulfill this mission in the following ways: grant giving to nonprofit organizations, high-school scholarships, and special funding initiatives; working in partnership with our donors and other funders to achieve high impact philanthropy; and serving as a resource and center of information where ideas are shared to leverage common agendas and resources in the future.
The Foundation leverages the philanthropic spirit of citizens, families, corporations and nonprofits to best meet the challenges of changing times. The generosity of our donors has enabled the Community Foundation to award more than $7.5 million to the Greater Lowell Community since 1999.
About Megan's House
The Megan House Foundation is a 501(c)(3) public charity incorporated with the intention to help the Merrimack Valley community and surrounding areas establish a comprehensive plan to provide and facilitate substance abuse treatment services for people in need. The first home, Megan's House, was opened to the community in October 2015. Megan's House is a long-term residential substance abuse treatment and recovery home for women between the ages of 18 and 26.
About NETSCOUT SYSTEMS, INC.
NETSCOUT SYSTEMS, INC. (NASDAQ: NTCT) is a market leader in real-time service assurance and cybersecurity solutions for today's most demanding service provider, enterprise and government networks. NETSCOUT's Adaptive Service Intelligence (ASI) technology continuously monitors the service delivery environment to identify performance issues and provides insight into network-based security threats, helping teams to quickly resolve issues that can cause business disruptions or impact user experience.  NETSCOUT delivers unmatched service visibility and protects the digital infrastructure that supports our connected world. To learn more, visit http://www.netscout.com.
©2016 NETSCOUT SYSTEMS, INC.  All rights reserved. NETSCOUT, the NETSCOUT logo, Guardians of the Connected World, Adaptive Service Intelligence, nGenius and nGeniusONE are registered trademarks or trademarks of NETSCOUT SYSTEMS, INC., and/or its subsidiaries and/or affiliates in the USA and/or other countries. Third-party trademarks mentioned are the property of their respective owners.
Donna Candelori
NETSCOUT SYSTEMS, INC.