The New Era of DDoS Has Arrived
Are you ready for it?
"NETSCOUT has been a leader in calling for multi-layer protection and they've taken aggressive steps to enable more businesses to deploy it."
Carl D.
Senior Security Analyst / Global Financial Services
67

of enterprises report DDoS attacks on customer-facing services and applications (WISR)

295

increase in attack frequency for satellite telecommunications

87

increase in exploit attempts 2H 2019

793

max attack size reported in 2019 (WISR)
IDC MarketScape: Worldwide DDoS Prevention Solutions 2019 Vendor Assessment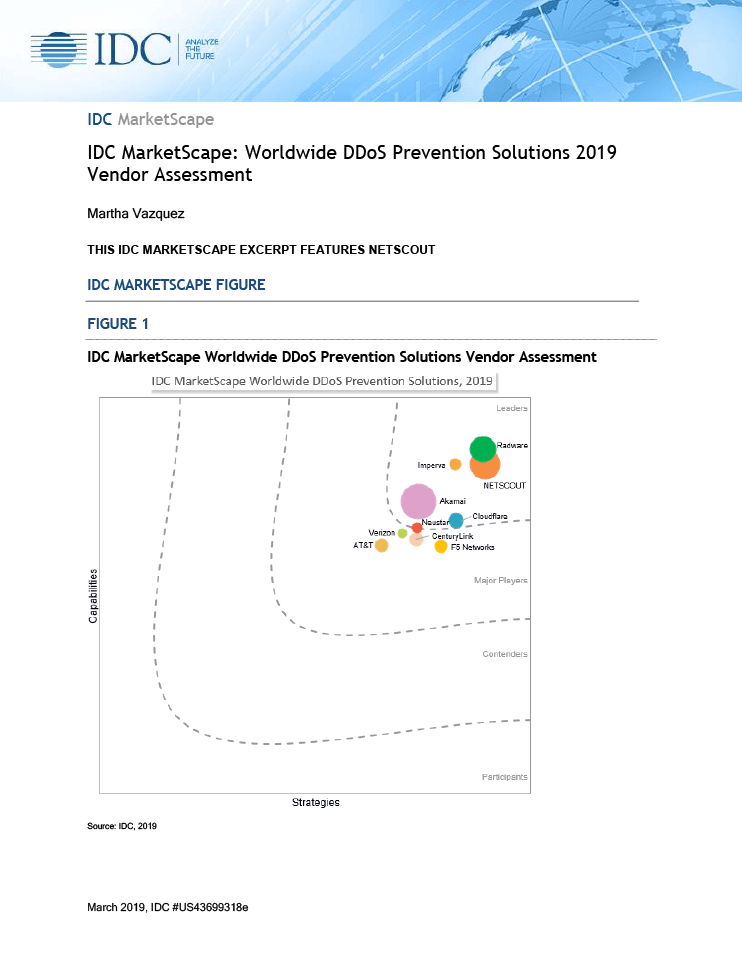 Can you detect, mitigate and protect against DDoS attacks?
A strong portfolio of solutions and services, including integration of threat intelligence, advanced analytics, SSL inspection, forensics, and cloud signaling has landed NETSCOUT as a Leader in the 2019 IDC MarketScape for worldwide DDoS prevention solutions. Download the report to get the latest on what companies should look for from vendors in this increasingly complex market.
View Report
NETSCOUT THREAT INTELLIGENCE REPORT 2H 2019
With Key Findings from the 15th Annual Worldwide Infrastructure Security Report (WISR)
We want you to remember one number: 8.4 million.
That is the number of DDoS attacks NETSCOUT Threat Intelligence saw last year alone: 23,000 attacks per day, 16 every minute. Any way you slice it, that's a huge number of attacks. The reality is, attackers are smart and efficient and never give up, accurately targeting attacks while using a minimum of resources.
Lucky Seven for Attackers. Attackers weaponized seven new, or increasingly used reflection/amplification attack vectors in 2019 while combining new variations of existing attacks—all while effectively husbanding resources and more accurately targeting attacks.
Mobility Under Attack. Mobile phones and wireless networks are under the gun as DDoS attacks on mobile networks jumped 64 percent year over year and APT groups bring mobile malware into heavy rotation.
WISR Survey Highlights IoT, Cloud Risk. Infected and compromised endpoint IoT devices are a top concern for enterprises, while respondents reported a dramatic increase in DDoS attacks on publicly exposed service infrastructure.
Efficiency is Their Middle Name. Most DDoS attacks use less than 3 percent of available resources in that particular attack vector.
Attackers Bypass Stout Defenses. Meanwhile, adversaries using advanced reconnaissance discovered how to use customers as conduits for attacks by leveraging client services of well-protected targets like ISPs or financial institutions to amplify attacks against specific enterprises and network operators.