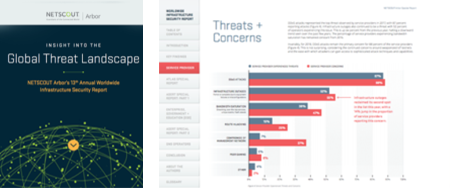 NETSCOUT Arbor's 13th Annual Worldwide Infrastructure Security Report (WISR) offers direct insights from network security and cyber security professionals, revealing collective experiences, observations and concerns of the global network security community.
As cybercriminals' tactics and methodologies continue to mature, this annual report offers insight into modern day network security concerns and severity including DDoS attacks, corporate network security, IPv6, data centers, mobile networking and more, broken down into sections dedicated to Service Providers and Enterprise, Government, and Education (EGE).
Download the Worldwide Infrastructure Security Report now to learn more about:
Leading trends in network security impacting organizations today.
How organizations are detecting and mitigating these threats.
Arbor's Special Report on attack sizes, duration, target countries & more.
Get your free copy today!
Fill out the form to get your free copy today.