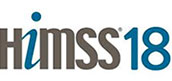 MARCH 5 – MARCH 9, 2018
Las Vegas, Nevada
Level 2, Booth 270
Get Ready to Future Smarter!
Please join us at HIMSS18, and learn how we're helping healthcare providers prepare to Future Smarter. We'll have our experts available to meet with you to support your efforts in preserving and optimizing Patient Experience and application service performance in your private, public and hybrid cloud environments.
NETSCOUT® is a leading provider of business assurance, a powerful combination of service assurance, cybersecurity, & business intelligence solutions to healthcare organizations. NETSCOUT's Smart Data from continuous monitoring of the service delivery environment provides smart analytics to identify performance issues and security threats impacting healthcare services like EMR patient records, DICOM imaging & diagnostic systems, HL7 communications, pharmacy & accounting services.
Keys to Delivering Quality Healthcare Services
Please join us at the booth as we discuss:
Enhancing Patient Experience with NETSCOUT as a strategic partner
Holistically and Intelligently Monitoring and Optimizing Healthcare Systems
Ensuring safe and swift patient-care services while protecting against security and performance disruptions
To include all facets of your environment that matter:

- EHR / EMR
- Radiology and Imaging – PACS / DICOM
- HL7 Interoperability
- Protecting against cybersecurity threats
- IoT
- Troubleshooting your Wired, Wireless, Private and Cloud environments