Inscrivez-vous dès maintenant pour recevoir les dernières nouvelles de NETSCOUT en matière de continuité de service.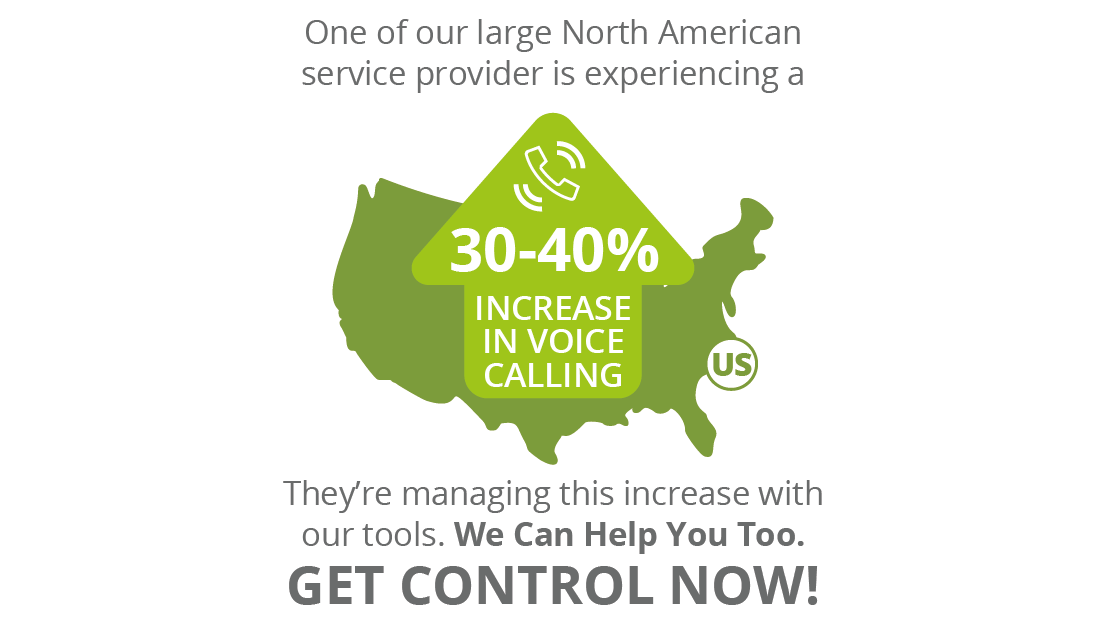 Les opérateurs rapportent une hausse de l'utilisation des services réseau de leurs abonnés de plus de 30 % en raison du nombre accru d'abonnés en télétravail en cette période de pandémie. Cette nouvelle réalité professionnelle redéfinit les indicateurs de performance lors des pics d'utilisation du réseau pour les services vocaux, les services de données et les services par contournement. Maintenant plus que jamais, les abonnées attendent une expérience et une qualité de service optimales. L'épidémie de COVID-19 oblige les clients à travailler avec une multitude de services différents :
Streaming de vidéos – Youtube et Netflix
Réseaux sociaux – Facebook et Instagram
Applications vidéos – TikTok et Quibi
Il est important que votre stratégie de surveillance vous permette de rapidement détecter et gérer ces services populaires si vous souhaitez garantir une expérience client optimale. Mais votre stratégie doit également inclure des considérations quant aux futures applications et services issus du paradigme de distanciation sociale qui vont potentiellement prendre le pas sur nos expériences futures.
Success Story
Monitor Geo-Location for Benefit of Public Services
Clear, visual assessment of actual subscriber activity can ensure coverage around essential infrastructure and support compliance with shelter-in-place orders and reduced occupancy opening criteria during COVID-19.
Informations détaillées en temps réel
Les solutions NETSCOUT vous fournissent des informations détaillées en temps réel sur l'expérience client en livrant avec fiabilité :
Des métriques exploitables
Approfondissez facilement les simples résultats de niveau supérieur jusqu'aux causes sous-jacentes qui incluent la métrique. Par exemple, examinez les performances des combinés et du réseau afin de déterminer rapidement la cause d'origine, garantir l'expérience client et améliorer le résultat NPS.
Vues orientées abonnés
Comprenez mieux l'expérience de vos abonnés et des services qu'ils utilisent. Utilisez les informations détaillées pour améliorer l'efficacité de l'assistance client et réduisez le nombre d'appels passés aux groupes d'assistance client en examinant les engagements des abonnés en fonction des performances et des pertes afin d'améliorer le taux de résolution dès le premier appel.
Outils de réduction du taux de désabonnement
Créez un indicateur satisfaction qui reflète la perception des utilisateurs et le service qu'ils reçoivent.
Options de rapport exécutif
Surveillez vos services facilement et avec précision. Améliorez l'expérience des abonnés à l'aide d'indicateurs de performance clé de référence et de cartes de notation exécutives afin de réduire proactivement le taux de désabonnement.
La solution NETSCOUT
NETSCOUT peut vous aider grâce à ses solutions unifiées haut de gamme nGeniusOne et nGenius Business Analytics, qui utilisent des données intelligentes.
nGeniusOne, la plateforme de garantie de service de catégorie opérateur hautement évolutive de NETSCOUT, est alimentée par la technologie Adaptive Service Intelligence™ (ASI), notre moteur d'inspection approfondie des paquets breveté qui utilise des données câblées pour offrir une analyse contextuelle en temps réel pour une résolution immédiate des problèmes complexes relatifs au réseau, au service et aux abonnés sur les services vocaux, vidéo, Wi-Fi, Internet haut débit, de messagerie et par contournement. Suivez une approche de hiérarchisation verticale concise grâce à l'interface utilisateur et aux flux de production applicatifs modernes de nGeniusOne, dans le but d'accélérer l'identification des problèmes, l'analyse des sessions abonnés et les résolutions de problèmes.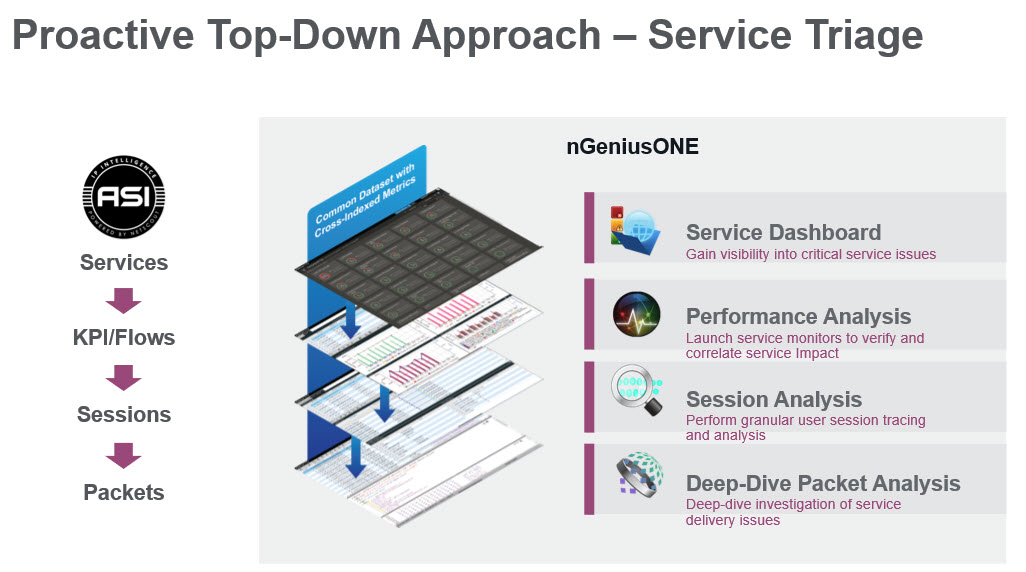 nGenius Business Analytics (nBA) de NETSCOUT exploite nos données intelligentes en temps réel afin d'offrir un tableau exhaustif sur les performances du service, le comportement et l'utilisation des abonnés et ainsi prévoir une expérience de service réussie. nBA et les données intelligentes permettent de suivre le comportement des abonnés et leur utilisation des services, et offre la visibilité et les informations relatives à la façon dont les abonnés utilisent le réseau. Avec ces informations à portée de main, vous pouvez rapidement prendre des décisions efficaces sur l'ensemble des organisations pour faire face aux défis courants relatifs aux services vocaux, de données et par contournement.
Audio unilatéral et interruptions audio
Appels abandonnés
Mauvaise couverture réseau
Problèmes de transfert
Latence de configuration
Échecs d'inscription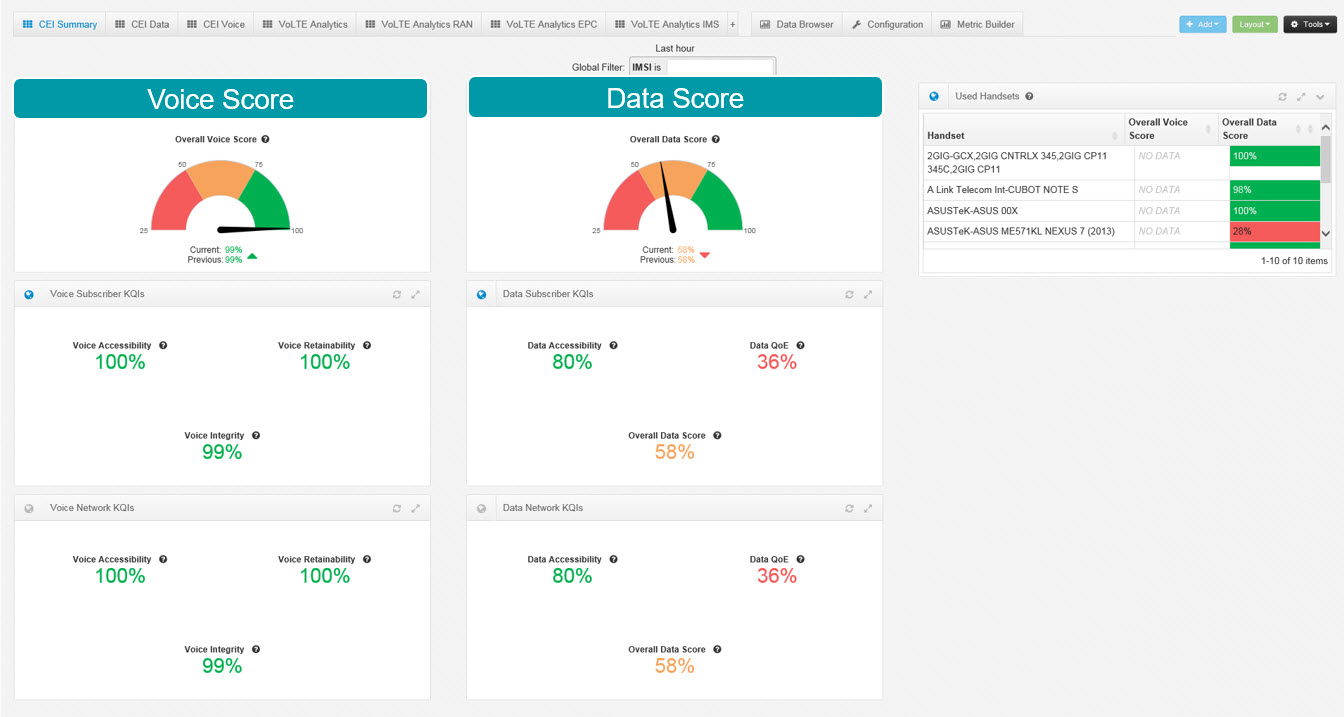 Contactez NETSCOUT aujourd'hui