Inscrivez-vous dès maintenant pour recevoir les dernières nouvelles de NETSCOUT en matière de continuité de service.
Sus empleados y clientes no piensan en su negocio en términos de aplicaciones y servicios segmentados, sino que desean desarrollar actividades comerciales de manera rápida y eficiente, desde cualquier lugar donde trabajen. El brote de COVID-19 ha complicado aún más el asunto, ya que las empresas enviaron a todo su personal a trabajar de forma remota. Como resultado, una población remota de grandes proporciones de pronto necesita acceder a dichas aplicaciones por medio de diversos dispositivos personales, con Wi-Fi de casa y a través de una gama de redes de proveedores de servicios de Internet. No es de sorprenderse que la complejidad que supone la prestación de aplicaciones y servicios de alta calidad aumente de forma exponencial.
Por eso las organizaciones necesitan un enfoque general del desempeño de las aplicaciones que se extienda por cada punto de contacto posible, desde la voz y el video hasta la gran cantidad de aplicaciones esenciales para las empresas. Además, ese enfoque debe trascender las fronteras, sin importar si sus empleados están en una oficina en casa, en las sedes corporativas o en una ubicación de campo.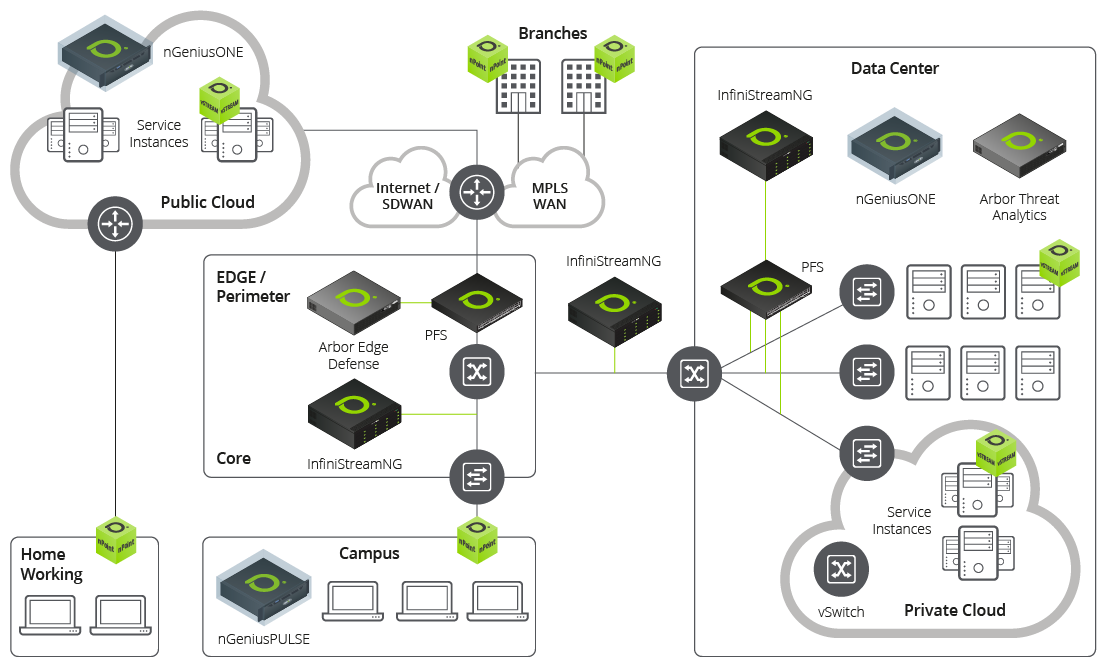 Case Study
Healthcare Improves Telemedicine Patient Experience With NETSCOUT
Patients and Home-Based Employees Benefit From nGeniusONE Visibility Into Performance Problems
La solución NETSCOUT
Hoy en día, todas sus aplicaciones y servicios son fundamentales, ya que las interrupciones en cualquiera de estos componentes puede paralizar la productividad de su empresa. Las soluciones de garantía de servicio de Netscout brindan visibilidad y análisis integrales, que son indispensables para que pueda ofrecer un desempeño ininterrumpido de las aplicaciones empresariales y de comunicación, a través de una ruta de prestación, con información sobre la experiencia de sus empleados, sin importar de dónde se conecten.
Desempeño de aplicaciones de buena calidad: en cualquier momento y lugar
NETSCOUT garantiza el desempeño de las aplicaciones de voz, video y datos en todas las etapas de la prestación del servicio, lo cual evita la complejidad exponencial de la actual infraestructura repartida y en expansión. nGeniusONE y nGeniusPULSE se combinan para ayudarle a resolver los problemas que surjan durante este periodo de trabajo desde casa e incluso después. La disminución del tiempo medio de resolución beneficiará a sus usuarios. Y su empresa se beneficiará de optimizar la productividad de sus empleados y la experiencia del cliente con servicios de aplicaciones empresariales clave.
Póngase en contacto con NETSCOUT hoy mismo