Melden Sie sich an, um aktuelle Informationen von NETSCOUT zum Thema Geschäftskontinuität zu erhalten.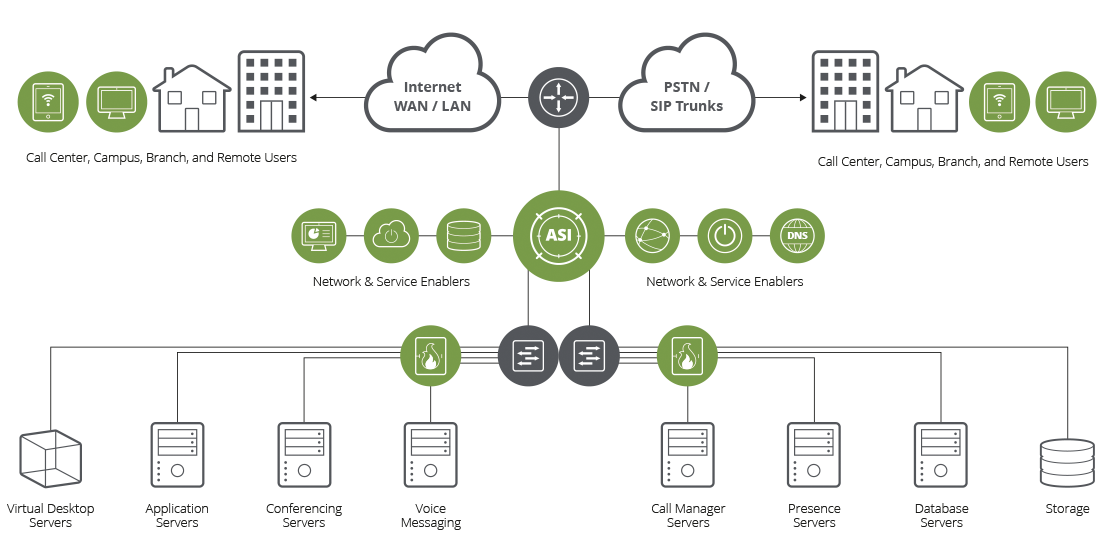 Unternehmen und Organisationen haben in den letzten Monaten in Rekordzeit Richtlinien für die Remote-Arbeit entwickelt. Benutzer im Homeoffice benötigen UC-Anwendungen für die Kommunikation mit ihrem Büro und den Kunden, um die tägliche Arbeit zu erledigen.
Die zentrale UC-Infrastruktur und die Backend-Geschäftssysteme befinden sich nach wie vor auf Servern im Rechenzentrum. Mitarbeiter im Homeoffice greifen jetzt allerdings über ein VPN oder das Internet darauf zu. Das sorgt an den Zugangspunkten zum Rechenzentrum für einen großen Volumenanstieg beim Datenverkehr.
Sie müssen diese wichtigen UC-Systeme und Protokolle immer im Blick behalten, um Probleme bei der UC-Benutzererfahrung in diesen komplexen, eng verknüpften UC-Architekturen frühzeitig zu erkennen und ihre Ursachen zu beheben. Verbindungen müssen konstant überwacht werden, denn die Traffic-Profile an diesen Zugangspunkten ändern sich ständig aufgrund des wachsenden Zugriffs durch Remote-Benutzer. Ohne ein hohes Maß an Sichtbarkeit und Analytik könnten UC-Services verlorengehen. Das wiederum könnte die Produktivität der Remote-Benutzer sowie die Kundenerfahrung beeinträchtigen und somit zu Umsatzeinbußen führen.
Nutzen Sie NETSCOUT-Lösungen der nGeniusONE Service Assurance-Plattform in Ihrem Rechenzentrum an den kritischen Zugangspunkten und an den Session Border Controllers in den SIP-Trunks und profitieren Sie von folgenden Vorteilen:
Sichere Performance der kritischen UC-Services für Signal- und Medienqualität, um Probleme schnell zu beheben.
Vorselektieren von Voice-Services, um zu ermitteln, ob Probleme vor Ort oder in Kombination mit dem Service Provider entstehen.
Verwalten von Bandbreiten und QoS der Netzwerkinfrastruktur im Unternehmen und im Internet.
Sichere VPN-Firewall-Performance durch Analyse des VPN-Datenverkehrs auf beiden Seiten der kritischen Firewalls, um das Traffic Conditioning an den Firewalls zu ermitteln.
White Paper
Expert Tips to Keep Your Unified Communications Communicating
Expert Tips to Keep Your Unified Communications Communicating
Sie möchten die Geschäftskontinuität auch in Zeiten der Remote-Arbeit aufrechterhalten? Rufen Sie uns an.