Melden Sie sich an, um aktuelle Informationen von NETSCOUT zum Thema Geschäftskontinuität zu erhalten.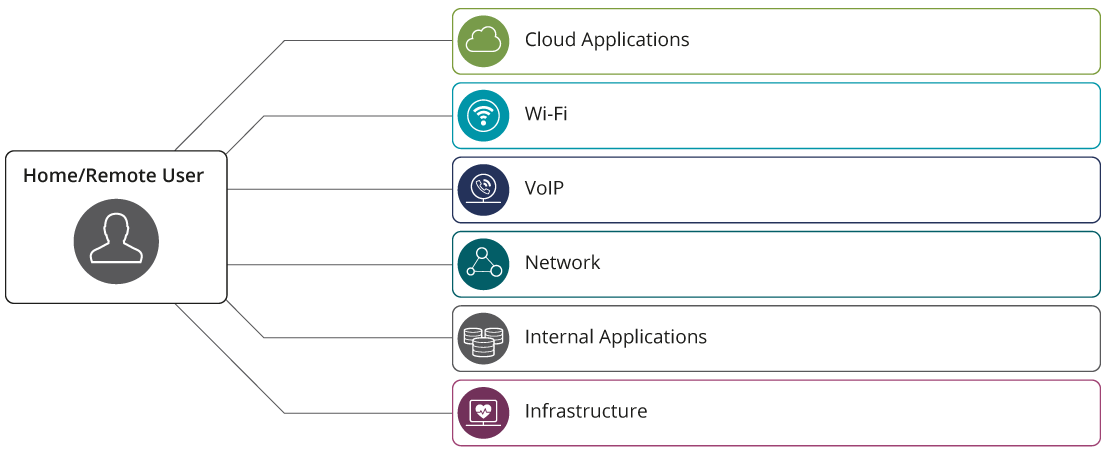 Auch wenn Anwender nicht vom Büro aus arbeiten, erwarten sie die gewohnten Zugangsmöglichkeiten und möchten in Sachen Performance keine Kompromisse machen. Egal, wo Ihre Mitarbeiter gerade arbeiten: Verfügbarkeit, Performance und Benutzererfahrung der SaaS-Schlüsselanwendungen müssen weiterhin geschützt, überwacht und validiert werden können.
Sie sollten genau wissen, welche Erfahrungen Ihre Mitarbeiter im Homeoffice mit dem System und den Anwendungen machen. Nur dann können Sie die Anforderungen und Erwartungen an eine hochwertige SaaS-Performance in Ihrem Unternehmen erfüllen.
Use Case
nGeniusPULSE for SaaS Monitoring
NETSCOUT's nGeniusPULSE provides visibility to how SaaS applications are performing at their remote sites and where delays are occurring.
nGeniusPULSE
Mit nGeniusPULSE von NETSCOUT wissen Sie, welche Erfahrungen Benutzer mit ihren Anwendungen machen. Virtuelle IT-Agenten können auf den Desktops der Anwender Benutzeraktionen standortunabhängig simulieren.
So wissen Sie, ob der Benutzer Verbindungsprobleme hat. Außerdem erhalten Sie wichtige Informationen, um ein Problem schnell zu lösen, denn nGeniusPULSE nPoints sammelt automatisch und kontinuierlich Informationen darüber, wie gut Benutzer auf wichtige Geschäfts- und Netzwerk-Services zugreifen können. Überwacht werden beispielsweise folgende Services:
Office365

SalesForce.com

Workday

ServiceNow

UCaaS

VPN-Zugänge

VPN-Kapazität

Netzwerkperformance
nGeniusPULSE liefert Einblicke in die Leistung beliebiger webbasierter Anwendungen oder Services, darunter SaaS-, UCaaS- oder VoIP-Services sowie kundeneigene On-Premise-Anwendungen. Die Art der Bereitstellung – öffentliche Cloud, private Cloud, On-Premise oder hybride Umgebung – spielt dabei ebensowenig eine Rolle, wie die Frage, ob der Zugriff kabelgebunden oder über ein WLAN-Netzwerk erfolgt. Gleichzeitig können alle Einzelschritte oder -aktionen in einer Anwendung von der Anmeldung bis zur Abmeldung mit einheitlichen, geplanten Tests überwacht werden.
nGeniusPULSE: Auch im Homeoffice Transparenz bei den IT-Abläufen
Wenn Ihre Mitarbeiter verstärkt von zu Hause aus arbeiten, stehen sie vor bisher noch nie dagewesenen Herausforderungen. Da sollte der Zugang zu SaaS- und UCaaS-Anwendungen nicht zu einem weiteren Problem werden. Mit nGeniusPULSE behalten Sie die Performance im Blick und können mögliche Probleme beheben, um Ihre Mitarbeiter bei der Remote-Arbeit optimal zu unterstützen. NETSCOUT hilft Ihnen, entscheidende Kommunikations- und Collaboration-Services zu überwachen.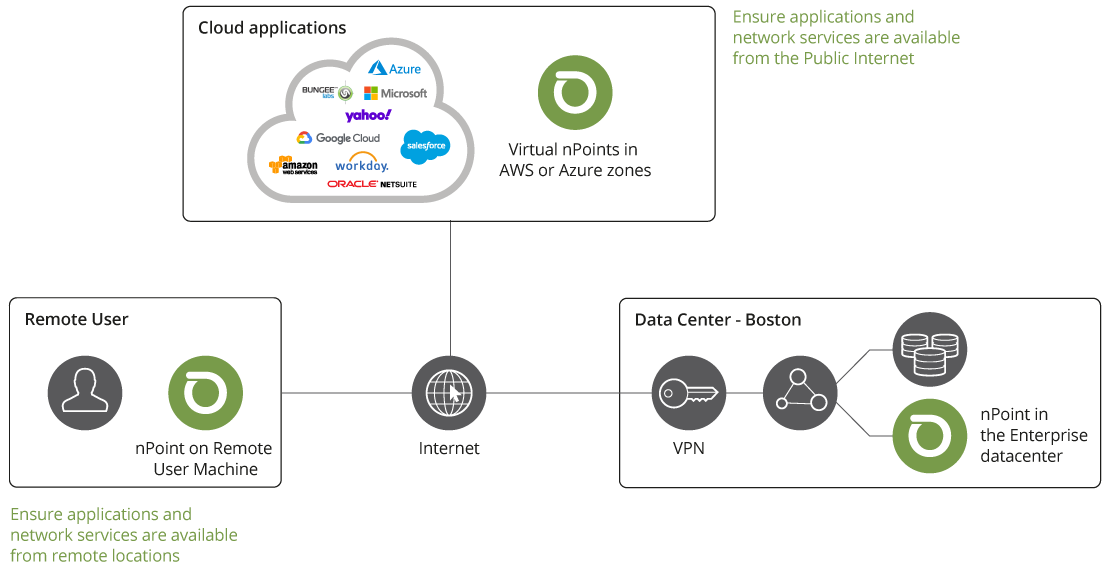 Sie möchten Ihre SaaS-Perfomance überwachen? Rufen Sie uns an.