Melden Sie sich an, um aktuelle Informationen von NETSCOUT zum Thema Geschäftskontinuität zu erhalten.
Sie hatten geplant, Services in die Cloud zu verschieben, Infrastrukturen auf Co-Los auszulagern, neue SaaS-Anwendungen einzuführen und das Rechenzentrum zu virtualisieren. Doch dann kam COVID-19. Jetzt rücken die Geschäftsabläufe wieder mehr in den Fokus und NETSCOUT kann Ihnen durch bessere Sichtbarkeit helfen, Zeit und Geld zu sparen: ​
Die Überwachung der Umstrukturierung vor, während und nach der Verlagerung von Anwendungen und Workloads in die Cloud und auf Co-Los sichert die Verfügbarkeit und erleichtert die Migration.​
Die Performance-Analyse für neue SaaS-Anwendungen gewährleistet beste User Experience.​
Eine leichtere Fehlerbehebung über die verschiedensten Cloudumgebungen hinweg reduziert die MTTR.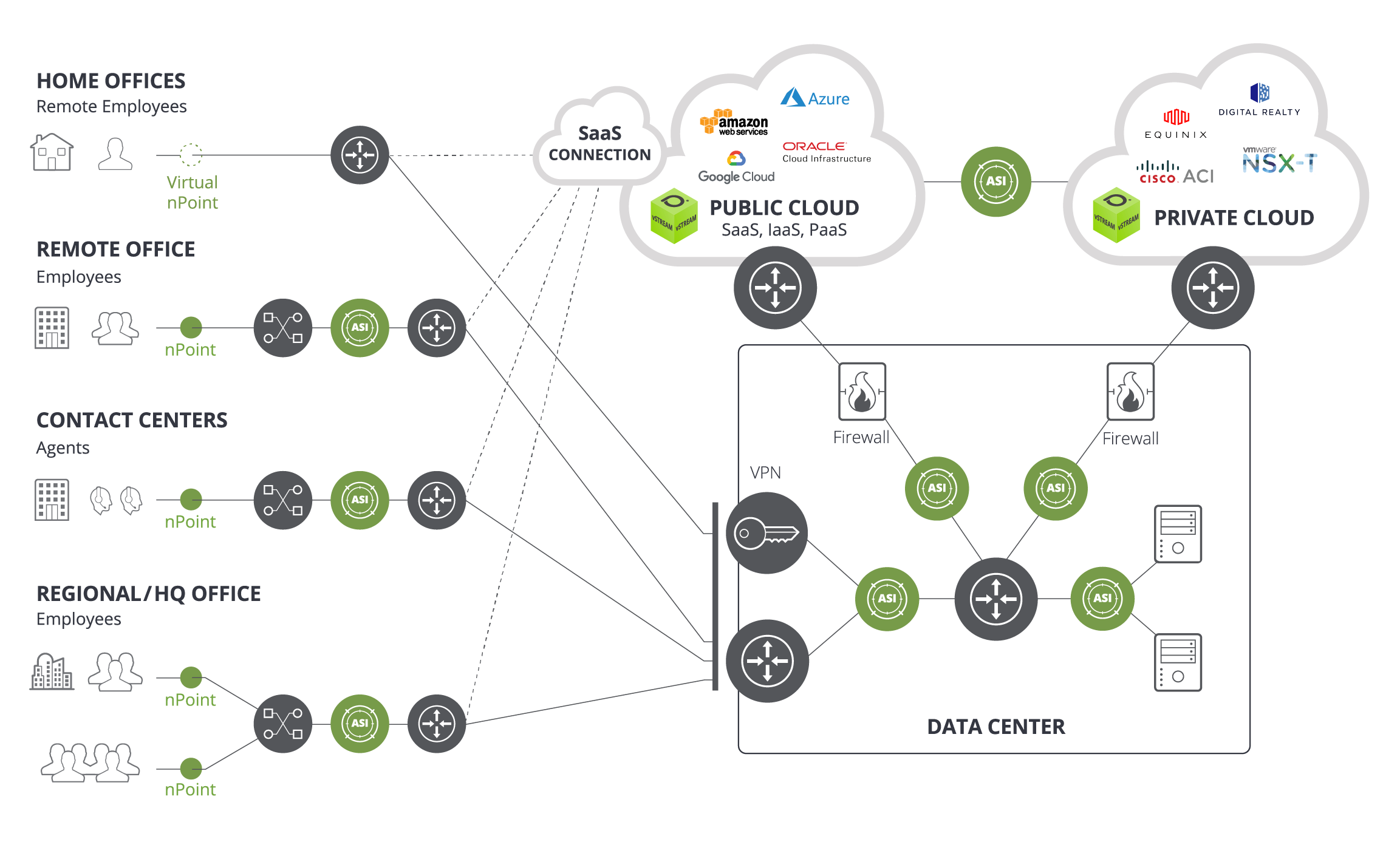 Case Study
Extending Data Center Performance Monitoring with Software-Based Smart Visibility
This Government Agency leverages NETSCOUT Smart Visibility to assure the performance of their Hybrid Cloud environment.
Service Assurance-Plattform - DE
NETSCOUT sorgt für die sichere Verfügbarkeit Ihrer Services, damit Sie neue und migrierte Services in Multi-Cloud-Umgebungen sorgenfrei bereitstellen können. Auch wenn Ihre Mitarbeiter heute von den unterschiedlichsten Orten aus arbeiten, Ihre Unternehmensziele sind die gleichen geblieben: Neue Kunden gewinnen, sich auf dem Markt durchsetzen und für Geschäftskontinuität und optimale Anwendererfahrung sorgen.​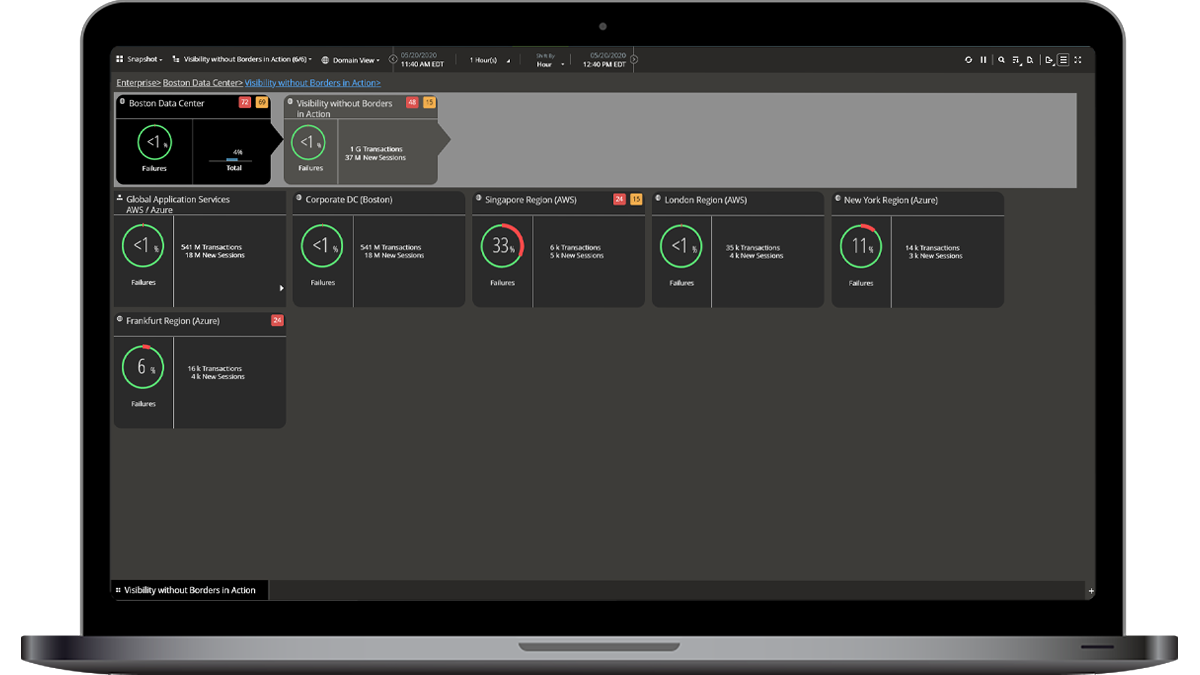 nGeniusONE
nGeniusONE sorgt für zuverlässige Performance Ihrer kritischen Anwendungen in der Hybrid Cloud. Wie auch immer Sie Ihre Services bereitstellen – im Rechenzentrum, in der Cloud oder über Co-Los – mit nGeniusONE können Sie Probleme in der gesamten Servicekette, von Backend-Anwendungen über Datenbanken und Enablern bis zu Desktop-Services, schnell beheben, um die Mean-Time-To-Resolution (MTTR) zu reduzieren. Anschließend können Sie schnell überprüfen, ob die Services wieder störungsfrei laufen. ​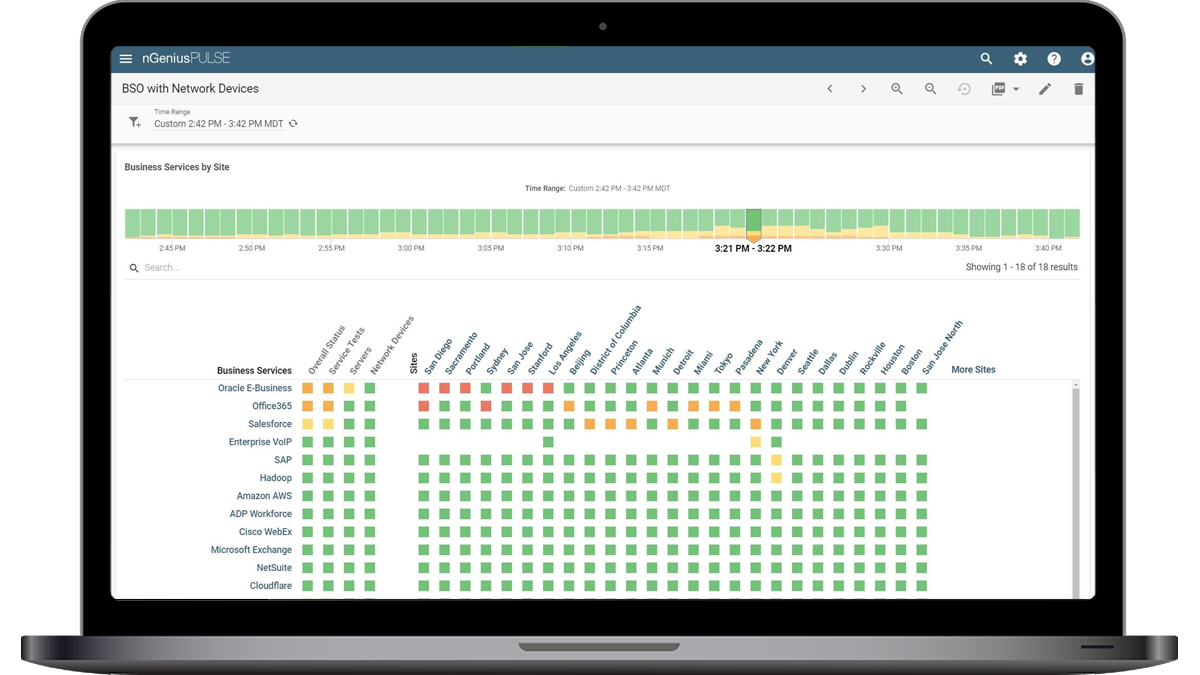 nGeniusPULSE
nGeniusPULSE überwacht Ihre Services, auch wenn Benutzer nicht aktiv sind. So kann Ihr IT-Team Probleme beheben, bevor sie beim Remote-Benutzer zu Ausfällen führen. Das IT-Team kann mit nGeniusPULSE Probleme im Internet, in Rechenzentren, in der Cloud oder in SaaS-Anwendungen aus der Kundenperspektive analysieren, um für eine unterbrechungsfreie Konnektivität und optimale User Experience zu sorgen.
Sie möchten Ihr Rechenzentrum erfolgreich umstrukturieren? Kontaktieren Sie NETSCOUT.