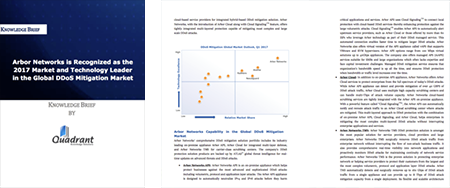 The growing complexities, scale and frequency of DDoS attacks make choosing a DDoS mitigation solution a critical decision in securing an organization's network and ensuring its availability.
Quadrant Knowledge Solutions recently completed a study of the "DDoS Mitigation Global Market Outlook" analyzing market dynamics, opportunities and the competitive vendor landscape of the market — and named Arbor the market and technology leader in the global DDoS mitigation market!
Download the complete Knowledge Brief to quickly learn about how Arbor achieved this recognition and the features of its sophisticated DDoS protection platform, including:
Arbor APS: an on-premise appliance which provides businesses with DDoS protection against the most advanced and sophisticated DDoS attacks
Arbor Cloud: built on multiple high capacity scrubbing centers to handle multi-Tbps of attack volume capacity.
Arbor TMS: surgically removes DDoS attack traffic from enterprise network without interrupting the flow of non-attack business traffic.
ATLAS®Intelligence Feed (AIF): provides real-time updates with actionable intelligence on DDoS attacks and advanced threat campaigns.
Get your free copy today!
Fill out the form to get your free copy today.