IDC White Paper
Changing Rules of IT: Creating New Approaches to Service Assurance, sponsored by NETSCOUT
Software transformed the data center and it's about to change the way you think about your packet visibility architecture.
In recent years, enterprise leaders have sought to disrupt their markets and competitors through DX enabled by the 3rd Platform pillars of innovation: cloud, mobile and big data for example, and the acceleration of new digital technologies such as the Internet of Things, robotics, virtual reality, among others. This shift has fundamentally altered how companies work, driving deep organizational change and the need for key performance indicators to ensure successful delivery of the business outcomes.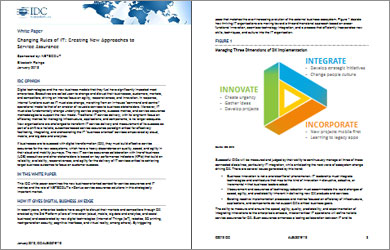 This paper examines the new business-oriented context for service assurance and IT metrics and the role of NETSCOUT's nGenius service assurance solutions in this strategically important market.
Download Your White Paper