Shared Services Canada Shares Their Best Practices for Data Center Modernization and Virtualization While Ensuring End-to-End Operational Visibility in Cisco Live Webinar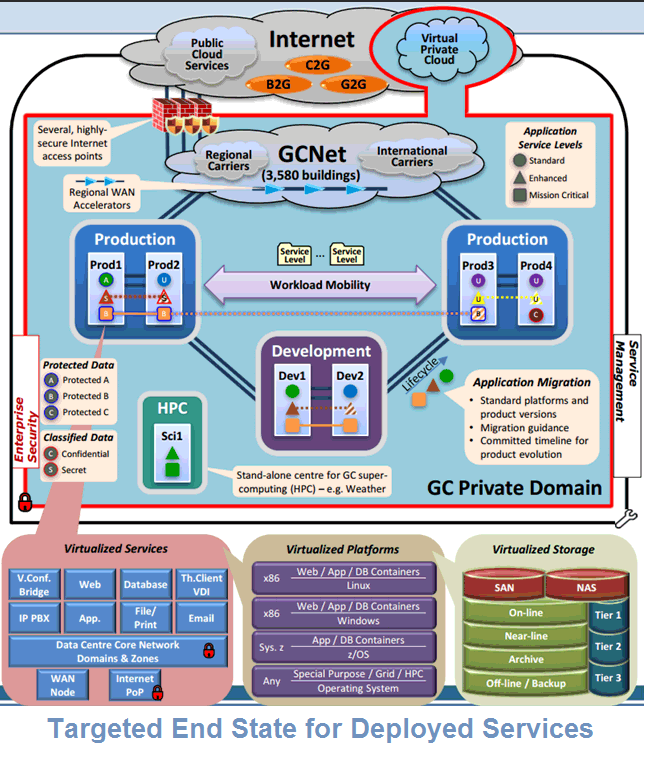 Shared Services Canada (SSC) is the Canadian government's information technology (IT) agency that is mandated with the ongoing task of overseeing, managing and securing the government's vast, coast-to-coast IT infrastructure and data centers that service 43 federal departments and agencies. Thus, IT operations and services provide critical strategic importance that serve as the foundation stone for virtually all governmental activities.
Moreover, in order to further the Canadian government's aggressive Blueprint 2020 plan, SSC has been charged with leading four key, strategic IT initiatives including expanding availability of Wi-Fi, upgrading technology to support a mobile workforce, enhancing desktop videoconferencing and more. SSC has also been charged with consolidating 485 government data centers into seven while streamlining 50 wide area networks (WANs) supporting 377,000 users in more than 3,000 domestic and international sites into a single enterprise network.
Indeed, the agency has a sprawling network with a cloud services and Multi-Protocol Label Switching (MPLS) backbone that serves as the core of its network source feeds and aggregation layers. Its core IT environment network footprint comprises data center, video conferencing, wireless infrastructure, virtual networking, remote access and a security framework – with all of it serving mission-critical applications and services.
In order to facilitate the migration and consolidation of 485 data centers to seven, SSC decided upon a virtualized targeted end state that includes storage, platforms and services. Its design is to enhance workload mobility and service performance – with Application Performance Management (APM) and Network Performance Management (NPM) central to SSC's data center migration and consolidation strategy.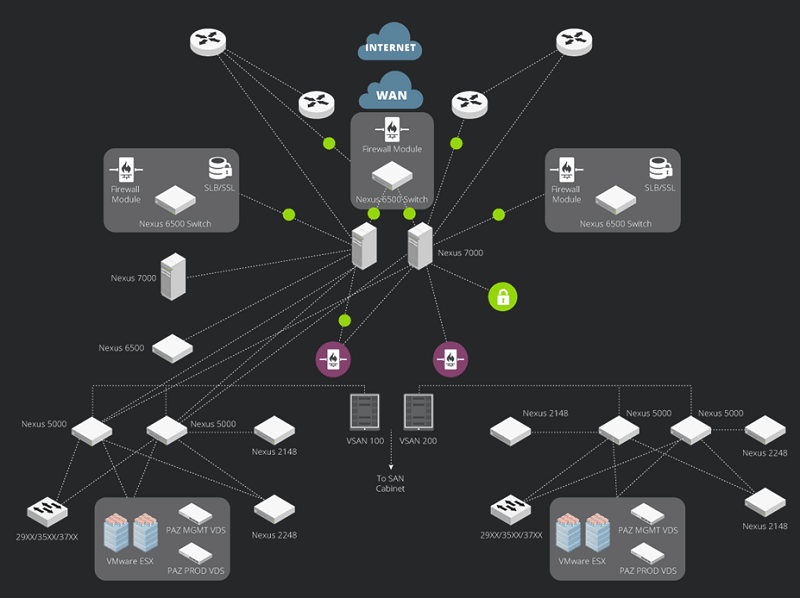 SSC & NETSCOUT
SSC's multi-tier service delivery architecture drives the need for a management platform to broaden their visibility horizons to include both network and application analytics, which is exactly what NETSCOUT provides. NETSCOUT leverages key data points from the network, application, server, database and device to provide service-oriented analysis. This creates a system with visibility across the entire service delivery fabric, enabling all branches of IT to ensure high performance delivery. SSC presenters Ray Janisse and Eric Ducharme outlined how SSC set up strategic instrumentation points using NETSCOUT Intelligent Data Sources in the data center and in the core of their MPLS network to track bandwidth usage, top protocols and conversations on WAN/Internet links, monitor metrics of critical applications, forensic analysis for security, and more.
Within the data center, SSC placed NETSCOUT instrumentation between the virtual and physical servers, storage and the communication services. To be specific, SSC instrumented NETSCOUT between the Nexus 7000 data center servers and the Catalyst 6500 switches, between two separate firewall modules, Catalyst 6500 switches and SLB/SSL offloads, which Janisse and Ducharme showcase during the webinar.
Guaranteeing a flawless end-user experience among all IT services is the end goal for SSC and to achieve that they are relying on the NETSCOUT nGeniusONE Service Assurance platform to obtain end-to-end visibility of their IT infrastructure and a comprehensive real-time and historical view of any service delivery component including network, server, database, service enablers and application. Since every action and transaction is occurring on the network, continuous monitoring of the traffic-based data is accomplished with NETSCOUT's Adaptive Service Intelligence (ASITM), next-generation traffic analysis technology.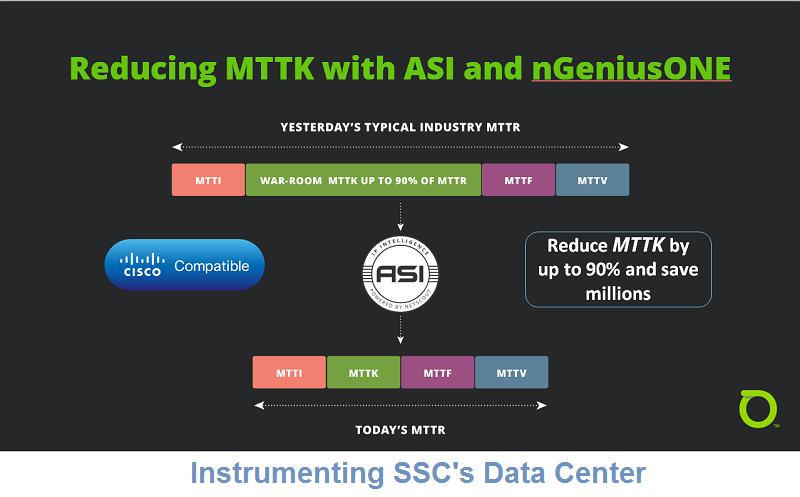 As illustrated during the webinar, the ASI metadata is the foundation for rapid service triage, pinpointing the root-cause of service degradations, and can reduce the Mean-Time-To-Knowledge (MTTK) by up to 90 percent. Thus, SSC is able to derive critical insights into the performance, availability, and consumption of services.
The NETSCOUT platform allows SSC, Janisse and Ducharme confirmed in the webinar, to proactively oversee the network and all its components while simultaneously triaging potential problems. The result is a flawless user experience that cost effectively facilitates issue resolution in the service delivery infrastructure. Indeed, the fundamental thrust of the webinar outlined how vital pervasive NETSCOUT instrumentation is to SSC's ambitious five-year plan. And the built-in ASI technology is the cornerstone of a highly scalable service assurance architecture that collects, correlates and contextualizes data allowing the IT organization to get a complete understanding of the service experience and to quickly identify the source of a performance problem.
Conclusion
SSC has set out to modernize and update its IT infrastructure to ensure a more connected and collaborative government. In order to do this the IT teams must ensure rapid service triage and holistic operational visibility of its expansive virtual and physical service and application delivery environment.