Helping Orphans in China Shows NETSCOUT's Heart of Gold
NETSCOUT Volunteers Get Hands-on
Seeking medical treatment for children with disabilities is always difficult.  For orphaned children, without a family or support network to help them overcome the many challenges they face, it's even more complicated.
All too often, poor families are unable to bear the cost of treating disabled or seriously ill children. For some, they are left with no choice but to turn to government orphanages. Unfortunately, due to the high cost of the medical treatment they require, they may not get all the help they need, even when in the government's care. In China, this is where Children's Hope Foundation (CHF), a local non-governmental organization (NGO) based in Beijing, offers another way to support these children.
CHF has helped 7,259 disabled orphans since the foundation opened its doors, offering resources to provide safe accommodations, medical treatment, and educational assistance. In particular, Alenah's Home is a special care facility that helps orphans receive medical treatment and rehabilitation services in Beijing. Between 2004 and 2016, 130 children have been fostered at Alenah's Home, with 70 of them having been adopted.
NETSCOUT Volunteers Get Hands-on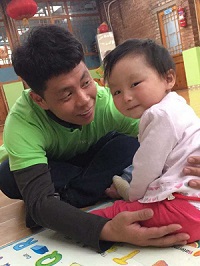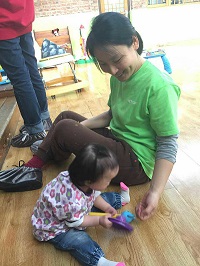 Earlier this year on three separate occasions, NETSCOUT employees participated in activities that included helping to feed the children, reading stories, and teaching them to paint and sing. This sort of hands-on involvement is absolutely vital to these children, who often-times lack the comforts of this type of close comfort and attention.
Cindy Shi, from NETSCOUT's Human Resources team, has taken the lead on organizing the volunteer efforts at CHF. "Every mother wants to give their children the best care, but these disabled orphans don't have any family to look out for them. That's where we can make a big difference. For me personally, it is very rewarding to help these disabled kids and provide them with a feeling of love and support," explained Cindy. "The volunteers at Alenah's Home are the closest thing these kids get to having a family until they can find a new adopted home or foster care placement. So, being able to give them a sense of hope and help them get much needed medical care is something that fills our hearts."
Of the NETSCOUT volunteers who participated, most indicated they wanted to return to the Alenah's Home again in the near future.
Helping an Eight-year Old with Cerebral Palsy
Cindy expressed pride in being a member of a company that was committed to supporting local communities through charitable activities and service projects such as CHF. "I feel good about working for a company that cares like this. When you see firsthand how big a difference this makes, you can't help but feel good. For example, while we were at Alenah's Home, we met an 8-year old girl who suffers from cerebral palsy. Because of her illness, she's unable to speak and she struggles to make simple physical movements. All of our volunteer team members took turns holding and talking to her. It was such a powerful experience to have been able to help this little girl feel better," added Cindy.
The NETSCOUT team plans to return to Alenah's Home in the coming months to continue to provide care and support. The company's Beijing engineering team has expressed a desire to do all it can for those in need.