IDC Market Spotlight by Stephen Elliot, Program Vice President, IDC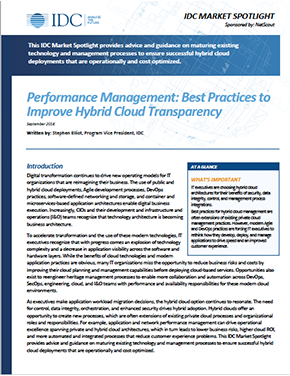 This IDC Market Spotlight white paper offers suggestions and techniques on how organizations moving to hybrid cloud environments can benefit from adopting several best practices to maintain availability and services performance as they roll out their hybrid cloud initiatives. When initiating hybrid cloud strategies, IT executives are expecting to gain value from security, data integrity, control and management process integrations.
In this white paper, you will see how leveraging best practices, honed and proven in their private cloud management practices, have become a strong starting point for hybrid cloud management. Modern Agile and DevOps practices are also influencing the way IT executives approach development, deployment and management of applications to drive speed and improve customer experiences.
Recommended Resources
NETSCOUT Cloud Solutions - Navigate the Cloud with Confidence
NETSCOUT's service assurance offers you peace of mind, enabling you to deliver new services in hybrid cloud environments with the critically important objective of acquiring new customers and establishing competitive differentiation.
Migrate to VMware NSX environments with NETSCOUT Service Assurance
VMware's NSX has extended the advantages of server virtualization to the network. However, adding a complete suite of logical networking elements and services managed by the NSX controller, adds a level of complexity and a new dimension to tackling service delivery problems.