IDC Market Spotlight
Best practices to improve hybrid cloud transparency from IDC
Increasingly, organizations are recognizing that their IT infrastructures are an integral part of their overall business infrastructure and success. Hybrid cloud is becoming a more and more popular option for cost-effective, optimized workloads and storage—but it can present its own management challenges without the right approach.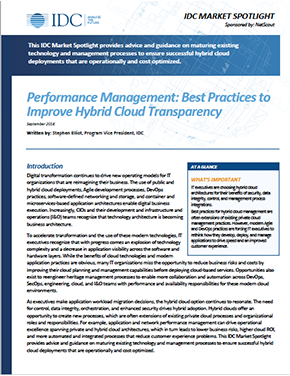 IDC Market Spotlight
In many cases, the best practices for managing hybrid cloud infrastructures are simply going to be extensions of those already in place for private cloud. But there are some situations where IT leaders will find themselves adopting new methods of deployment and management—and that requires careful consideration of several factors.
Read the IDC Market Spotlight now to discover:
Why performance transparency is so important for improvement
Which tools, processes and resources organizations need
The three core trends influencing cloud infrastructure management
Get your copy