Arbor APS, designed with the enterprise in mind
As more enterprises utilize HTTPS for access to applications, the vulnerability to application-layer attacks increases. In fact, in Arbor's 13th Annual Worldwide Infrastructure Security Report, 68% of enterprise organizations experienced DDoS attacks focused at HTTPS sites.
With Arbor APS, you are protected from these types of application-layer and common volumetric DDoS attacks. In the event of extreme circumstances where newsworthy-sized attacks happen, Arbor APS can seamlessly signal to Arbor Cloud™ as well as most carrier-provided traffic scrubbing services.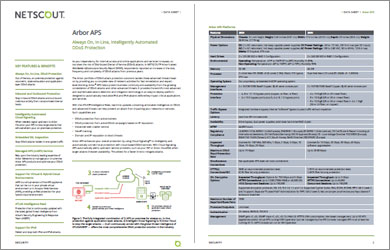 Learn what puts your online availability at risk
Download now to see if APS is right for you. Check out:
Arbor APS key features and benefits
Deployment options for your infrastructure
Real-time intelligence updates from the platform
Download now to learn the benefits of Arbor APS.